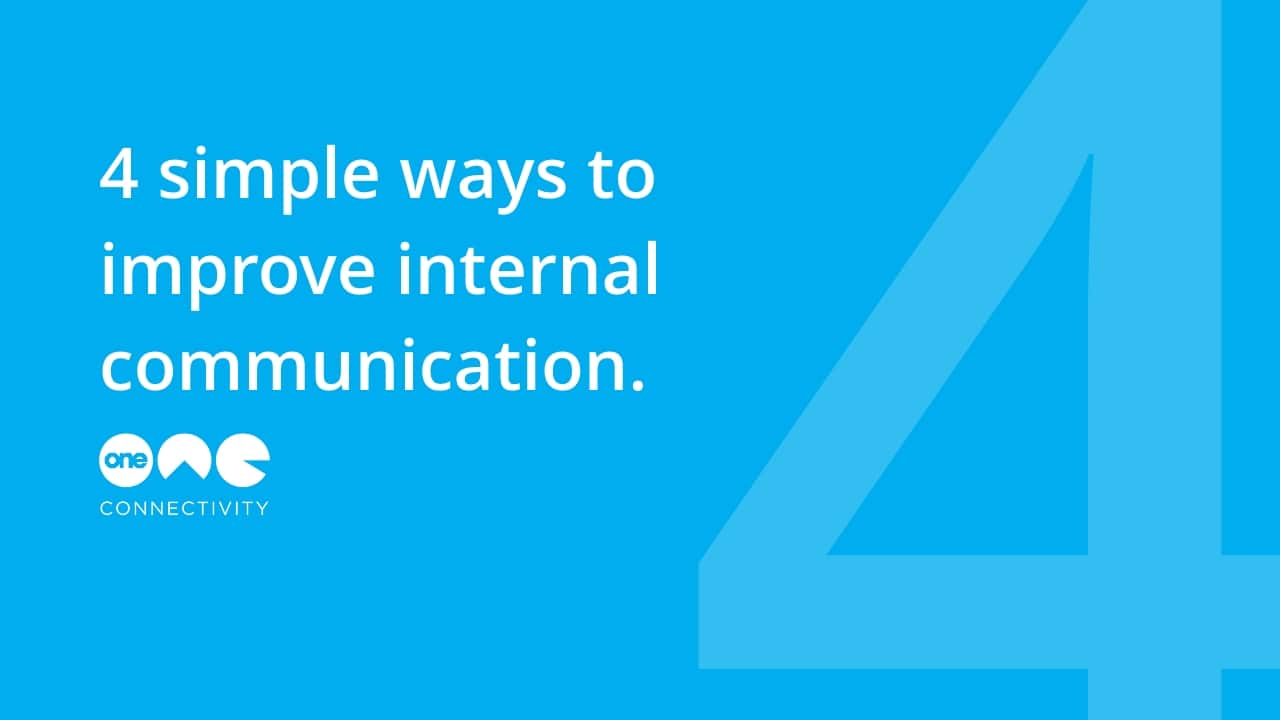 17 Jun

4 Simple ways to improve internal communication in your business

It goes without saying that customer and client relations are essential in any business. Building and maintaining their trust should always be a priority. That's why customer experience is so widely discussed – and rightly so.

But this blog is about something that's not discussed enough – internal communication. Quite simply, this is fundamental to any functioning organisation. If you don't optimise it, all sorts can go wrong. We've written this guide to offer some actionable tips on how to optimise it, and the technology that makes this easy. First, let's look at what happens when things go wrong.

When internal communication goes wrong
Picture a business with poor internal communication. Workflows are stop-start from one person to the next, running into constant bottlenecks. Unfinished tasks stack up. Employees aren't clear on proper procedures, and end up doing things in their own way. Some aren't properly trained, and receive conflicting instructions from managers.
The outcome is inefficiency and low morale – which will have knock-on effects for your customers, your recruitment ambitions and your business. That's the point. Everyone knows that keeping customers happy is important. But it's much easier to do that consistently in a functioning, happy organisation.
This brings us to a point that internal comms guru Lesley Allman makes. Internal communication isn't just something that's "nice" to have. It's a critically important business function.
Using technology to improve internal communication
The good news is that modern digital technology makes it a lot easier to avoid these pitfalls. With the right tools and processes, any business can do it. The tech that we're focusing on here is unified communications (UC).
UC is to a simple but profound concept. Essentially it signifies placing all communication channels in the same platform. This means that voice and video calls, instant messaging and email are all contained in the same place.
Each user has a presence setting, so you can see who's available in real time. You can set up groups by department or project, to keep everyone in touch. All of this speeds up the daily business of connecting with colleagues and customers.
Better yet, at One Connectivity we offer a UC platform that's hosted in the cloud. This allows you to get all that functionality and more on any device, in any location. This in turn means that remote workers are just as connected as the people in the office.
Next, we'll look at four simple, actionable tips to improve internal comms using UC, covering some of the extra features, add-ons and integrations along the way.
1.    Reach everyone – including remote workers
In the age of remote working, keeping everyone in the loop isn't automatic – you have to make it happen. UC gives you the means. Your remote workers have the same platform as everyone else. And for those who work on the go, One Connectivity's UC platform is available as a mobile app. You can be sure to keep everyone up to date, wherever they're based.
2.    Use the right communication channel for the job
Different jobs require different tools. Everyone knows that. And it's just as true of communication. If you need a quick response, email isn't always best. If you're double-checking a small detail, a phone call can be too long.
UC really helps here, by placing all your core communication channels in one place. And because you've got a presence setting, you can instantly see who's available. That way you can stay connected in the most efficient way possible – whether that's instant messaging, voice, video or email.
3.    Catch up regularly – and briefly!
Ever been in a meeting that drags on and on? We've found that much shorter, daily departmental stand-up meetings are a lot more effective. It's simple. Everyone briefly says what they're doing that day. It means your whole team knows what's going on, who's busy, the immediate priorities, and any snags.
Using our UC platform, you can do this as a video conference, to make sure remote workers are included. The key is to limit it to about 15 minutes. Again this is easy with UC, because you can view a timer. You can even integrate it with your Outlook calendar, so that the meeting is automatically scheduled, and you can quickly see when it's time to wrap up.
4.    Log things properly
Proper record-keeping is essential in any business. It's not just about compliance either, important though it is. Logging your activity is also crucial for efficiency. If your colleagues don't know what you've done, they have to chase things up with you. That takes up their time and yours. Whether it's a customer call or a shared project, logging your activity cuts out a lot of waste.
UC can help here too. Our UC platform can be integrated with all major CRMs. This means call logs are visible the moment a customer calls, so that you can answer queries quickly. It's a good example of the link between internal and external comms!
What One Connectivity can do
We've helped businesses of all sizes streamline their internal communications. With the right tools and the right practices, you can make internal comms more efficient. In turn, you'll see more effective collaboration, better morale and better customer outcomes.
Our approach is straightforward. We'll look at your business and budget, and tailor our suggestions accordingly. For honest, expert advice on your communications, get in touch today on 0115 896 8860.