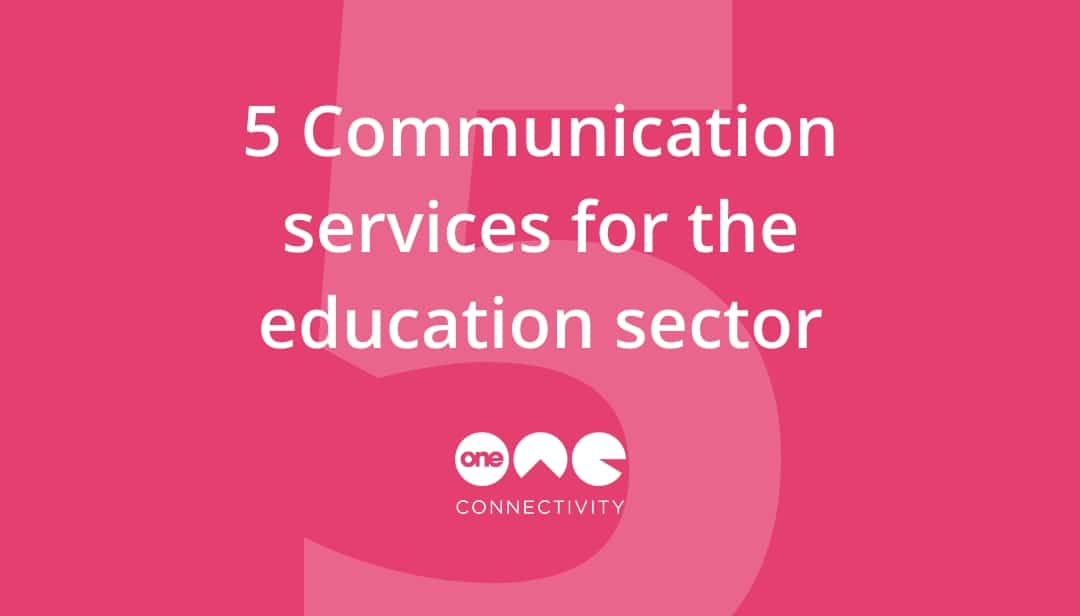 24 Mar

5 Communication services for the Education sector

Communication is key in the education sector. From primary to higher education institutions, keeping on top of internal and external comms is a significant daily task. If the workload becomes overwhelming, it's easy for standards to slip. In a sector where reputation matters so much, that's not an option.

What you need are efficient communications tools that help, rather than hindering you. We've written this blog to assist. As specialists in the field, we've helped many educational establishments to improve their communications. Over the years, we've seen what works for schools and colleges. So, we thought we'd use this blog to show you five of our favourite comms services.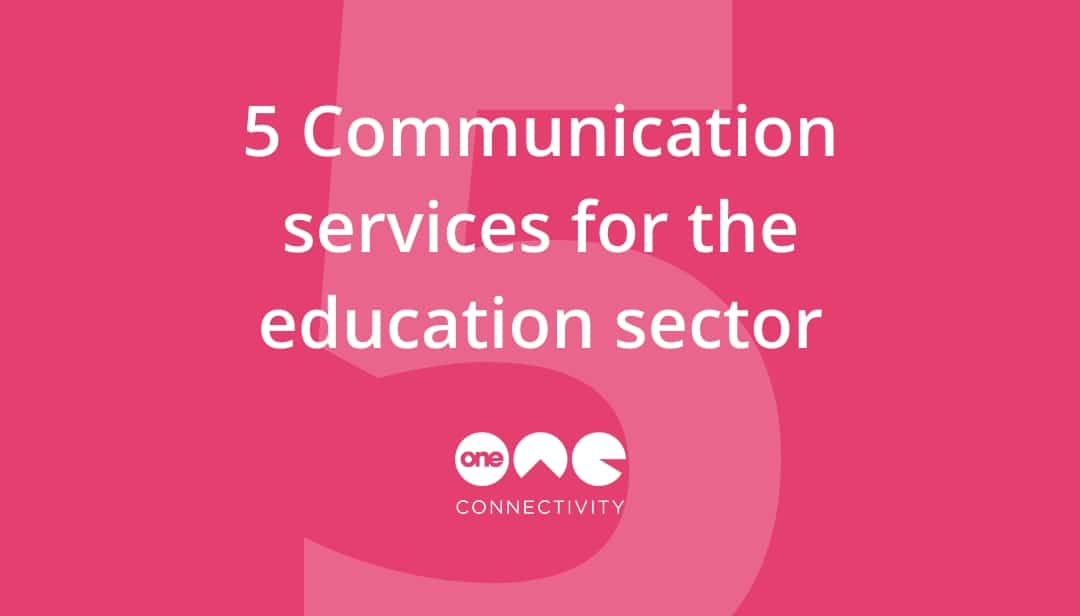 Unified communications
Lots of large organisations like schools acquire different comms products and services over time. Since these aren't integrated together, staff have to keep flicking between different screens and systems just to keep up with daily work. Add all that time up, and it's really not efficient. Unified communications (UC) is the concept that solves this.
UC is so much more than a phone system. It's a solution that brings all communications tools into a single place: voice, video and instant messaging are all on a single platform, which can be added to your cloud hosted communication service or used alongside onsite hardware. Connecting all of these significantly enhances efficiency. You're not constantly switching between screens, and all your communication records are in a single place. One Connectivity can provide all this. And better yet, you can integrate this with other software and apps. Which brings us to …
CRM integration
Many schools are looking to get more out of their customer relationship management (CRM) software. Integrating it into your UC platform brings huge organisational benefits. It allows you to see who's calling, along with any other notes you may have about them on your system. This means your team can be better prepared for any calls that come their way, which in turn allows them to offer a better, more efficient service.
It's also better for outbound calls. Rather than finding and dialling numbers, you can simply locate a person in your database, and then click and call. This saves a lot of time when you add up how many times you dial out. Since calls are connected to your CRM, this also means any information you hold on the caller is available, from attendance to disciplinary records. In turn, this allows your team to handle queries more quickly and accurately, increasing satisfaction and freeing up your team.
Call management tools
During busy hours, calls can come in at a rapid rate. You need to be able to manage their flow, get to them in good time, and ensure people are getting through to the right department. Otherwise, it's easy to end up with a long line of frustrated people waiting a long time on hold, only to get through to the wrong person.
There are some key tools that can prevent this and make call management easy. One is an auto-attendant. This is a 'virtual receptionist' that gives callers a menu of options to direct their calls. At One Connectivity, all our phone systems make this easy to set up and adjust, so that you can always be sure you're sending callers to the right place. We also offer tools to make call queues easier to manage and analyse. This includes digital dashboards that show call stats, including how many people are waiting, so that you can manage your availability with ease.
Call recording
It's absolutely essential that schools keep good-quality, transparent records. This is just as true when it comes to calls. If you're trying to resolve a complaint, for example, you need to know who said what and when. Call recording allows you to do that. But that's not the only benefit. You can use great calls to train new staff in best practice. It also protects your team. If a caller is aggressive, you have a record to prove it.
At One Connectivity, we can high-quality call recording with a range of user-friendly features. You can search for calls using multiple filters, including times, dates, staff members, and phone numbers. You can flag and save calls, and play them back with just a click. You can even listen in real time. Best of all, since the recordings are hosted in the cloud, you can listen from any device. Of course, security and data protection are critical in education. That's why our software is encrypted and GDPR-compliant. This means you get this essential feature without compromising on convenience or security.
Connectivity that works
Any communication infrastructure relies heavily on an internet connection. Whether it's voice, video or any other form of communication, connectivity is the backbone. This can be tricky in schools and colleges, which are often in listed buildings, where installing cables can be complicated. Even in modern buildings, complex layouts and outdated connectivity frequently leave 'dead spots' where no one can connect. And in education, it's not just staff but students who require a strong connection. If they're using the same connection, this can lead to bottlenecks and lower speeds.
At One Connectivity, we can provide wireless access points, strategically placed to ensure coverage everywhere it's needed. Not only does this avoid the expense and inconvenience of drilling holes, but it also guarantees your whole premise is connected. We also recommend guest networks for schools and colleges. What this means is that students and staff use separate networks. This means they're not using up each other's bandwidth, while also allowing you to protect students from unsuitable content.
How we can help
We're specialists in connectivity and communication, and over the years we've helped many schools and colleges improve the efficiency of their daily work. We also pride ourselves on our honesty. Rather than upselling for the sake of it, we'll analyse your needs and budget. Then we'll offer a solution that suits you, at a price you can afford.
If you'd like your school or college to connect and communicate better, get in touch on 0115 896 88 60.