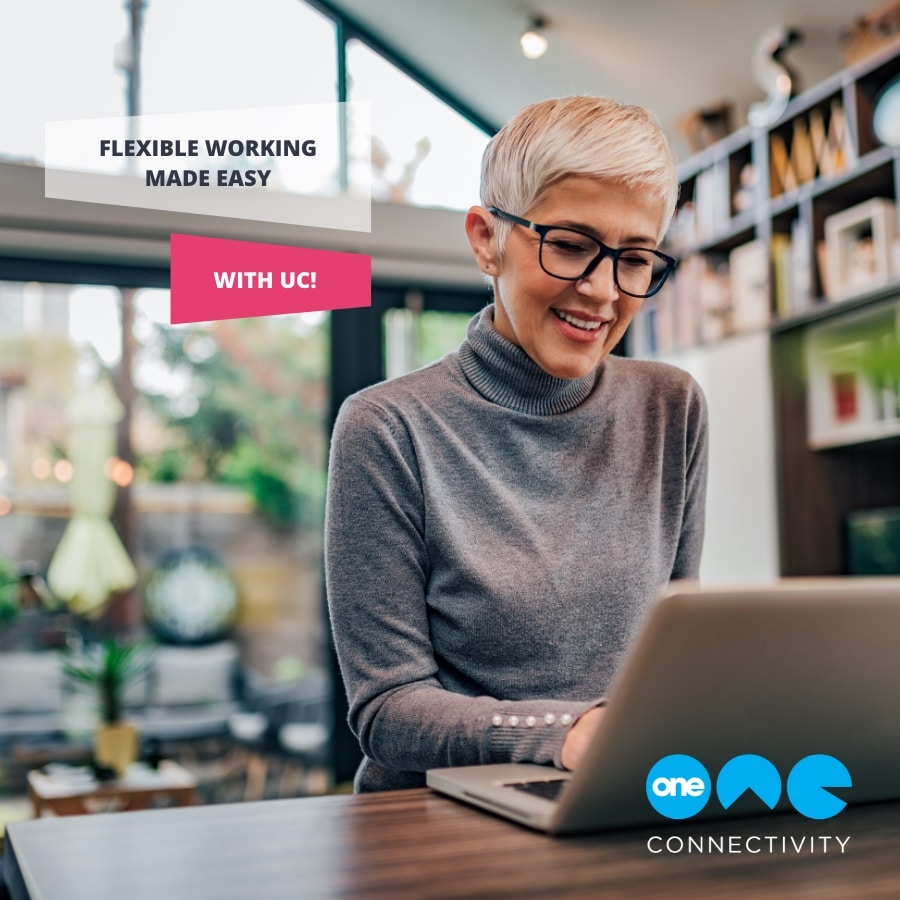 26 Jan

Flexible Working Made Easy with UC

Flexible working can be key to success in modern business. The advantages of being able to choose your place of work can be enormous. The best flexible working strategies however, are backed by advanced, cloud-based technologies. Without systems like Office 365 and Unified Communications, collaborating effectively over lockdown would have been far harder.

We've learned that with the right systems in place, flexible working can improve morale, increase productivity and even keep costs down without impacting communication or productivity. At the core of our strategy is our Unified Communications system. This provides our staff with all the tools they need to keep in touch.
Remote Working 
Of course, a key element of flexible working is the ability to work away from the office. Many businesses are understandably not keen to return to a full-time remote workplace, but the benefits of being able to work from home a few days a week are clear and undeniable.
Unified Communications technology allows your staff to work from home, taking advantage of all the benefits to morale and work-life balance, without sacrificing productivity. With apps available on all major desktop and mobile platforms, our UC platform lets you log in to your office comms system from any device, on any internet connection. This keeps you in touch with the office, collaborating freely with your team mates as if you are in the same room. Video chats, instant messaging and screen sharing all work to make remote productivity simple.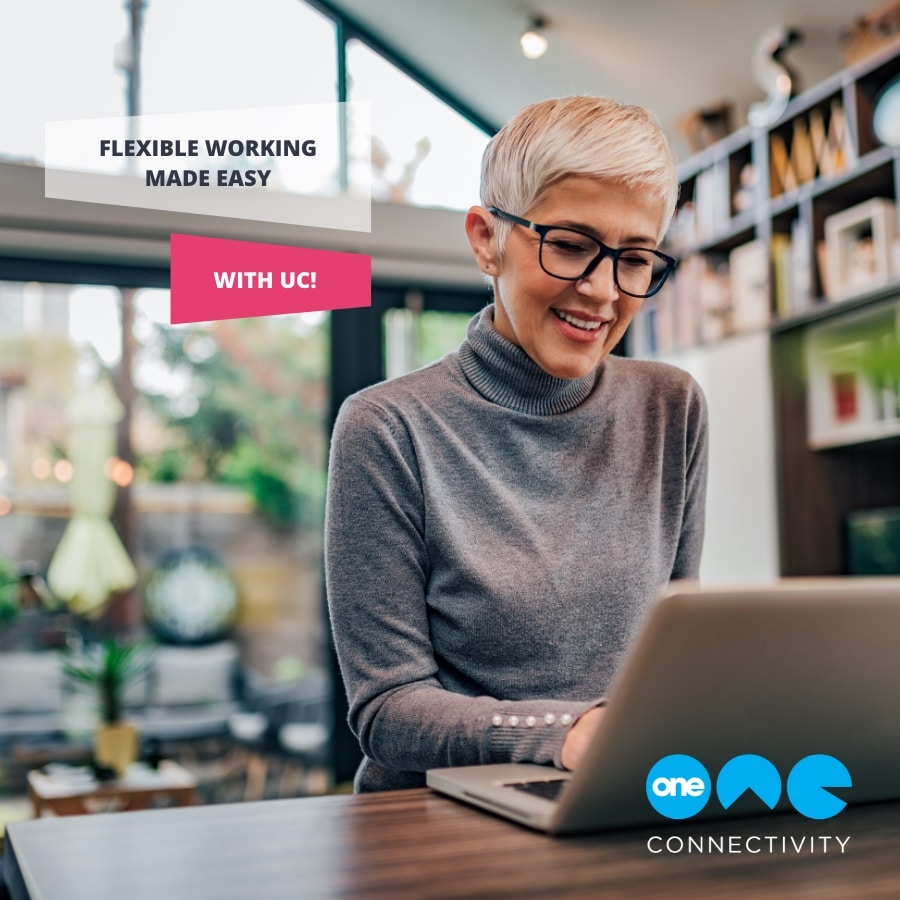 Hot Desking
If you introduce a carefully planned flexible working policy in your business, you may well find that you don't need to provide a desk for every member of staff. If you're only planning on having half of your workforce in the office on any given day, for example, do you need to have enough desk space to cater for everyone?
Hot desking is nothing new of course, but modern technology has made it more effective than ever before. Combined with cloud productivity suites like Office 365, Unified Communications takes your user profiles entirely to the cloud. This removes the last physical link between users and their phone numbers, documents and even desk phones.
Our UC service makes logging in to your business comms tools as simple as logging in to your PC every morning. Enter your extension number and PIN to log in to your phone system from the phone on your desk, routing all calls to your home for the day. But why not take it one step further by removing desk phones? The powerful mobile and desktop apps can entirely replace traditional desk phones, removing even more complexity from hot desking policies.
Cloud Technology
It can sometimes be difficult to provide remote access to your office systems if you host your own hardware. Enabling secure and reliable remote access to your office network can require some seriously heavy-duty routers and firewalls. The expense of this is understandably enough to put many businesses off the idea of flexible working.
Cloud technology is the clear solution to this. By using cloud-based systems like our UC service, logging in to your system from home becomes every bit as secure, reliable and simple as logging in from the office. Finally, remote working support is built-in from the outset and no longer an expensive option.
Integrations
The unprecedented synergy between UC and other third-party applications can truly revolutionise your productivity. Both in the office and at home! Integrating UC with your CRM opens new avenues for streamlining workflows.
Features like screen popping and click-to-dial help your staff get answers to clients sooner, wherever they are working from. Screen popping monitors inbound calls, retrieving customer records from your CRM's database and displaying them on your agents' screens as they answer calls. Click-to-dial lets you trigger an outbound call to a customer through your CRM. As a result, these and other features such as call recording, will work to improve your customer service levels.
What's more, cloud-based Unified Communications systems put all these great features at your staff's fingertips whether they're in the office or at home. This all makes UC the ideal core system of a telesales operation looking to expand its flexibility.
Deployment
UC allows you to rapidly react to shifting demand. Same-day extension provisioning ensures new users can be up and running in minutes. Integrating into teams and collaborating with their colleagues is easier than ever before. Deploying UC to remote users is easily accomplished with applications providing the entire feature-set of the platform on your users' desktops. The advanced call control features are available to users on any device. This ensures your customers can reach your teams, no matter where they are working.
Advanced hardware provisioning systems make assigning a desk phone to an extension as simple as selecting a phone from a dropdown menu – it really is plug and play. Powerful UC apps on mobile and desktops can even remove the need for any hardware entirely. This can save you further time and expense when deploying the system across your business.
Office atmospheres, culture and working practices have changed enormously over the last few years. Now is a better time than ever to re-think your communications strategy.
Could your business benefit from a Unified Communications system? Get in touch with us for a free and impartial quote.
0115 896 88 60
OneConnectivity.co.uk