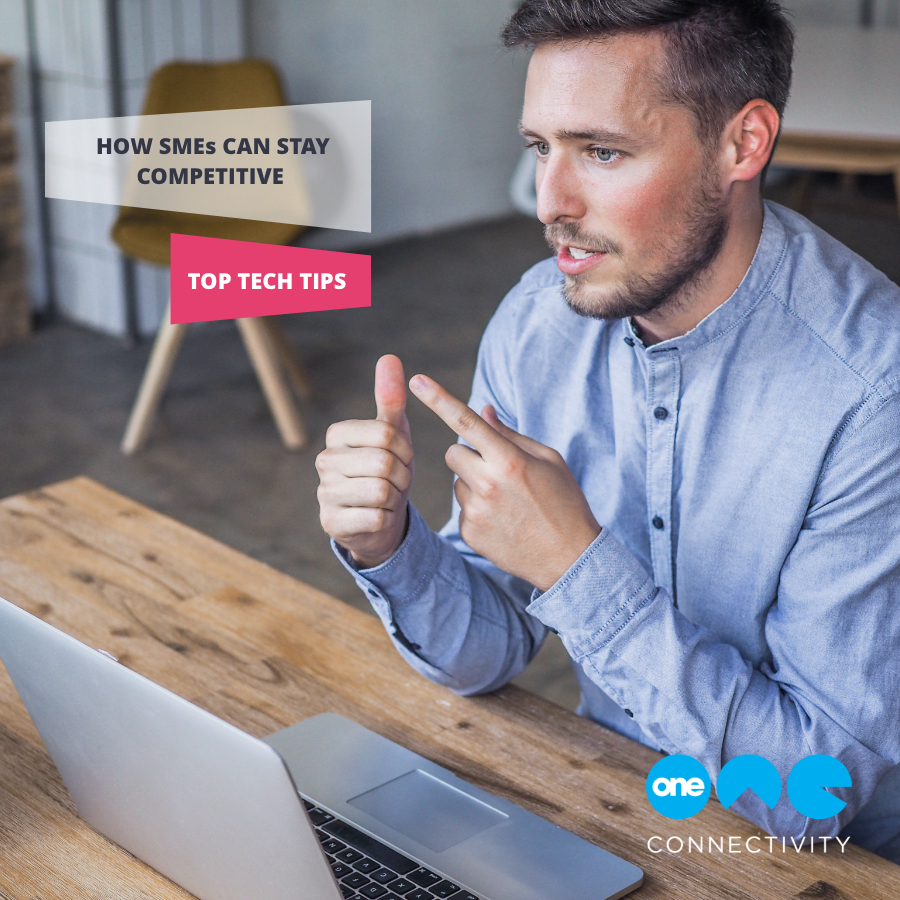 26 Aug

How SMEs can stay competitive

We know the business environment is intensively competitive, especially after the tumultuous past 18 months. It can often feel like smaller businesses just don't have the resources to draw customers away from larger enterprises, or retain a truly loyal customer base. At One Connectivity, we've seen this struggle first hand in a really wide range of industries, and we think that there are some solutions that many teams just aren't aware of.

We're independent technology providers, meaning that the advice and solutions we recommend is based on what really works, rather than the products we're paid to sell. With this in mind, here are our tips for how SMEs can outmanoeuvre their rivals and stay competitive.

Provide unique customer service
The greatest advantage that comes from being a smaller business is the ability to place greater focus on individual customers. It is far easier to place emphasis on great service when you can get to know each of your customers. Customers love to be greeted by name and have their needs understood quickly, only you can develop these great relationships, but we can provide the tools to do it with more efficiency.
One of the ways we can do this is through our call management service. This service can act as your hub for all your communication needs, in the office or remotely. It can integrate with your CRM, meaning you can greet customers by name and getting a better understanding of their issues more quickly.
It also allows you to make improvements to your service. Your management service can send you tailored reports about when the most calls arrive and when any are missed. This allows you react accordingly and make sure that no customer is left behind.
Maintain a professional and available approach
It can feel like larger enterprises are the only ones who can maintain a truly professional approach. Whether it is crystal clear audio quality or intelligent marketing, it's often difficult to keep up. The right technology can help to level the playing field though.
A unified communications service can allow your team to access high quality audio from any location. You can even set up call routes with the press of a button, meaning that when customers dial in, they will be directed to the mobile or laptop of any of your remote workers. High quality audio is guaranteed and your office extension will be displayed to customers.
You can even revitalise your marketing with our on-hold solutions. Instead of the grainy elevator music and slightly depressing voiceovers commonly associated with this service, our service uses a variety of clear royalty-free music and professional voice actors to provide a professional solution.
Open up to new audiences
Small businesses often look local when it comes to their customer base. It makes sense, especially when creating that bespoke service we mentioned earlier. But with the right technology you can expand your operation to new heights.
Lockdown revealed just how many people are willing to look elsewhere for the services they need, when those services are available online. This revelation has coincided with the arrival of WebRTC. This service allows you to host and join video calls directly through a web browser, with no installations or specific software required.
Making use of WebRTC through your communications platform can massively expand your online audience, past that of even your largest competitors. You can host online demonstrations, webinars or marketing presentations to an entirely new group. Users can join presentations by clicking on a link in an email or social media post, it will then open the meeting directly in their Chrome browser on any device. This means you can reach a whole new demographic, no matter their location or technical ability.
Make the most of what you have
Many small businesses have the resources to compete with larger enterprises, they just have not been using them as efficiently as they can. A great example of this is multi-site businesses. A huge number of small businesses work across multiple sites, but they aren't connected to the same phone system. Consolidating your sites can give you a great competitive edge.
A unified communication service can do exactly what it says on the tin (it doesn't come in a tin though). It unifies all of your sites under the same communication network. This means users can see when their colleagues across other sites are available to collaborate. It also means that if one of your sites are overwhelmed with calls, you can direct them to a less busy location. This can effectively double or triple your manpower and also allows you to bring any remote staff back into the loop.
We hope that this guide has given you some ideas on how your business can be more competitive. For more information on anything mentioned here, visit our website or call at 0115 896 88 60.