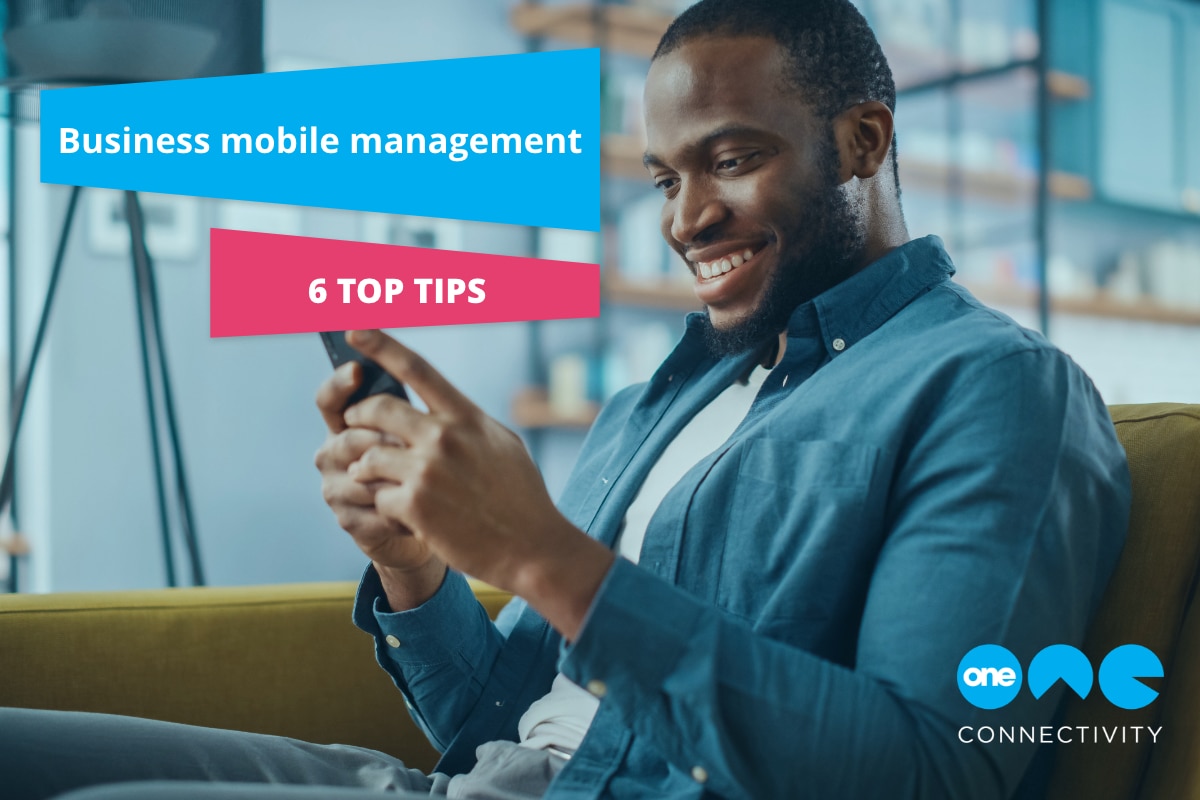 29 Jul

Managing workplace mobiles

Working on our mobiles has been one of the greatest advancements in business technology for years. The simple ability to make and receive calls on the go was revolutionary, but now with the number of apps and services available, it can seem like you need nothing but a mobile. Especially considering the current prominence of remote and flexible working, it pays for businesses to take advantage of their mobiles.

Like all personal devices used for businesses, mobile working needs to be managed properly. Without proper precautions or the right services being used, it raises issues around transparency and security. There are things you can do to help here. At One Connectivity, we're here to show you how you can turn your business mobile plan from a convenient calling tool, into o a complete business communications platform. From security, to cost-effectiveness, here are our top tips for managing workplace mobiles.

1. Consolidate your mobile bill
Working under one business mobile plan massively simplifies admin for your team. Without a coherent plan, those workers who are provided with company mobiles will have to submit their own mobile bills for expenses. This tedious process can quickly lead to accounting errors, and can also cause a lack of transparency in terms of who uses what.
Consolidating your bill also provides better clarity as to which mobile services are actually bringing your team the most value.
2. Divert calls for professionalism and convenience
Working on the go is made simple with business mobiles, but many teams worry about a loss of professionalism. If you start connecting with customers through personal mobiles, it can be difficult for maintaining work life balance, and audio quality can be an issue too.
This can be solved by setting up a call divert within your business phone system. This means that incoming calls can be automatically diverted from your office phones to a mobile of your choice. This means that customers have one port of call when it comes to reaching your business, and it helps your staff to work more effectively on the go.
3. Add an extra layer of security
Like all personal devices used for work, there are risks associated with your team taking company data on the go using their mobiles. If devices are lost or stolen, then the data included within them is at risk. This could be anything from financial information, company passwords or private customer details.
Working with a business mobile plan gives you access to Mobile Device Management software. This service allows you to remotely access staff phones if they are lost or stolen. Far from being intrusive, it simply lets you wipe the phone's data if you confirm that it is irretrievable.
4. Allow more flexible working
The security risks around mobile working has been a barrier to entry for many businesses. A managed mobile plan allows you to circumvent these risks and access the benefits to your internal communication and team productivity.
With access to business mobiles, your team can essentially bring their office phone system with them on the go. Our unified communications app allows you to see the status of your colleagues from a mobile, so users in the field can easily know when their desk-based colleagues are ready to collaborate. This is ideal for a range of industries, from estate agents to manufacturing and logistics teams.
5. Protect against telecoms fraud
Telecoms fraud is a huge issue, it is estimated to costs businesses globally $32.7 billion every year, and that number is only rising. When staff from home and take their communication devices with them, they are only more at risk. Without colleagues to refer to, many will end up falling victim to fraudsters.
Mobile device management helps to prevent this. Through this software you can set limits on employee devices, preventing attacks or mitigating their effectiveness. You can block certain websites that are considered a security risk. Alternatively, you can set limits on calls that can be made outside of business hours, or calls abroad, common tactics of fraudsters trying to run up your phone bill.
6. Keep your team working at their best
Managing company mobiles means that you always gave a clear grasp of who is working with what. From making sure your team are equipped with the latest security software, to ensuring they don't run out of battery life on the go. Having better visibility of your network only leads to good things.
If you notice a member of staff working with a particularly old mobile it might be time for an upgrade. New mobiles are a fantastic source of productivity and morale boosts, and managing your network makes it easier than ever to see who is in need.
We hope that this guide has highlighted the importance of taking another look at your business mobile network. For more information, visit this page of our website or give us a call at 01158968860.