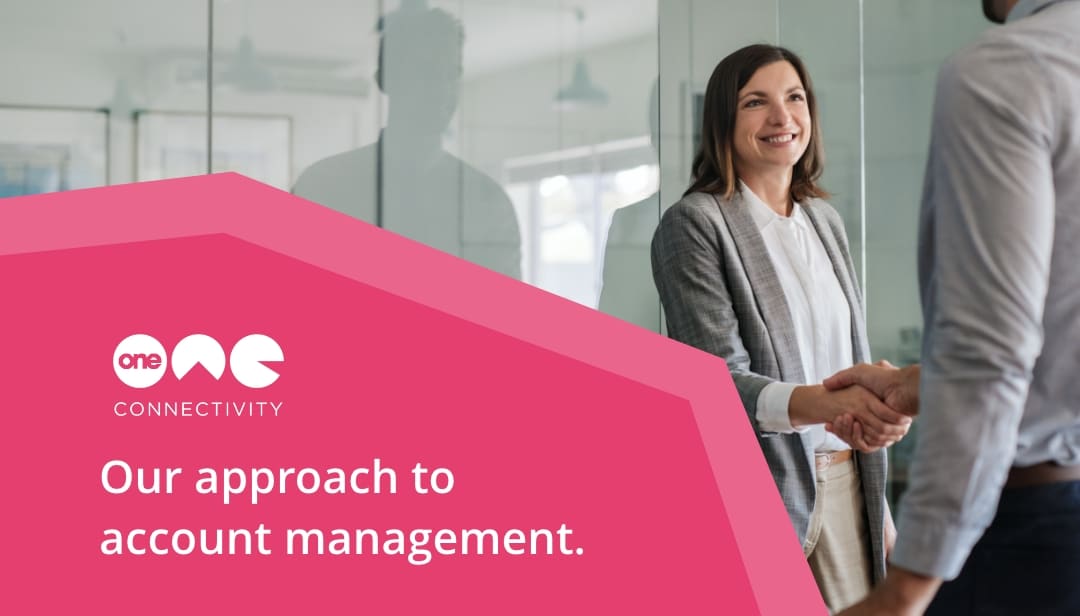 29 Jul

Our Approach to Account Management

Customer experience is what sets your business apart. And at One Connectivity, we'd like to think we've taken this an extra step further. In our industry, when we're supporting businesses with their technology needs, every job is different. This means we have to tailor our service heavily to suit each client. Thankfully we have some help here, introducing our account management team!

Our Account Management Process
Our account management process is based around two things, being proactive and personal. Once the contracts are all signed and your service with us begins, you'll be assigned your own named Account Manager.
We'll book regular catch-ups, and physically attend your site to discuss what's working and what could be improved. Visiting your site rather than handling things through a call isn't just our way of adding a personal touch. It helps us to understand what can actually make real improvements to your service, we always say it's not about upselling, but about listening.
It's not just about what our Account Managers do when they're out on the road, they're also here if you need a hand. Whether you need advice or troubleshooting, we're one call away. Of course we'll also be working behind the scenes, monitoring and solving any technical issues, usually before they even become an issue!
Why this is important to us
It sounds clichéd, but service is everything to us at One Connectivity. Our ethos is to act as an extension of your team, so we're always trying to do a good job by you!
Our Account Management process is all part of our way to provide technology that helps you to communicate and connect in a better way. We'll keep in touch to ensure you have the tools you need to grow your business, not because we want you to invest in the most expensive technology.
When we started the business in 2013, it was with the aim of helping SMEs businesses to compete with the big boys. Plenty has changed since then. We're proud to support some fantastic enterprise level clients, but the mission has stayed the same. We want to give you the tools to remain competitive in your industry, and our Account Managers help us do this.
So, what's new?
We're happy to announce that Faye Whyte, previously part-time Customer Experience Advisor, has been promoted to full-time Account Manager. This means we'll have another friendly face out and about getting to know our customers, which is great news! Another of our Customer Experience Advisors is now also working full time, which is all part of our continued commitment to delivering great customer care.
If you're looking to for a technology partner who handles customer service differently, get in touch with the One Connectivity team at 0115 896 88 60.