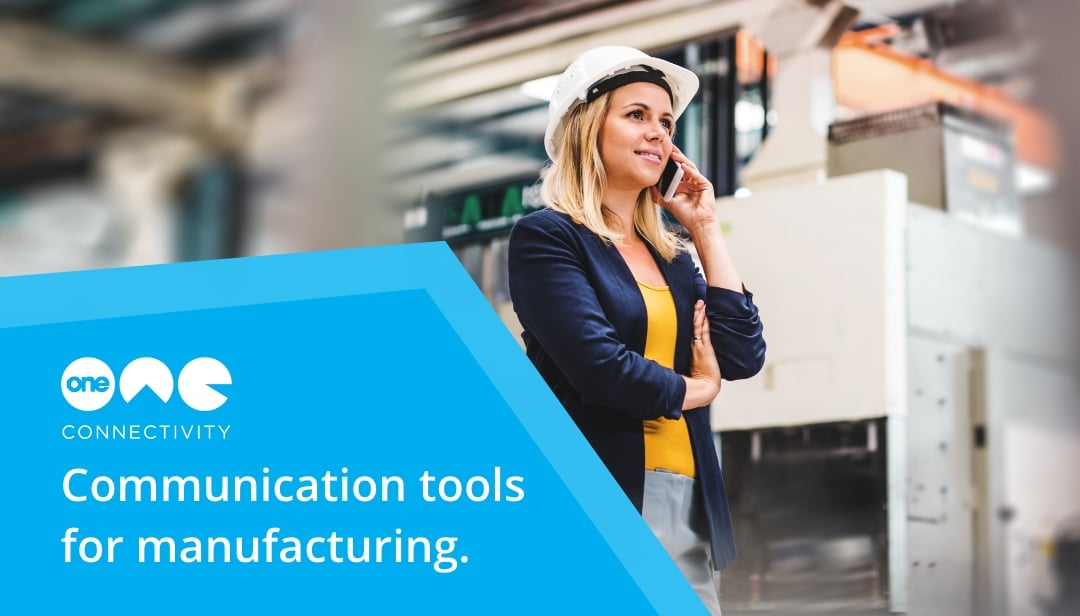 13 May

Phone systems for the manufacturing sector

The manufacturing sector faces some serious challenges when it comes to communications. These are often caused by sites that are split between offices, factory floors and distribution hubs, and very specific customer requirements. In today's blog we'll detail how we've helped customers here and the services that have allowed us to do so.

What makes a great manufacturing phone system?
A phone system for the manufacturing sector needs to bridge the gaps between all areas of a manufacturing business. This means everyone from the office and customer facing staff, to those on shop floors, and staff on the move. They all need to stay connected, and work productively and safely no matter the situation. Here are the services we think can help.
Portable / DECT handsets
Working on the move is part and parcel of the manufacturing sector. Whether you spend all day on your feet or sometimes need to move between departments, flexibility is key. This is where our portable handsets shine.
These portable or DECT handsets are Wi-Fi enabled and integrate alongside the rest of your phone system. This means you can handle calls just as effectively on the move as you can at your desk. You can access your contacts and handle calls at your best, with the ability to mute, transfer and put calls on hold as needed.
Wi-Fi support means calls won't drop out when you're on the move, even between floors or outside.
Reliable connectivity
Maintaining 3 bars of connectivity anywhere on site can go a long way to boosting productivity. Whether your team are using video conferences, hosting CRMs and other services on site or just browsing the internet, it needs to be a smooth experience.
At One Connectivity we can provision connectivity services that suit your business's needs. Whether you're looking for a cost-effective approach to fibre or a service that can be scaled up or down depending on your needs.
We also provide Wi-Fi access points that can be strategically placed around your site. These help staff handling calls on the move to stay connected. They even work outside!
Safety features
A communication system isn't just about convenience and customer service, it's also your go-to in an emergency.
Thankfully there are services that help your team react quickly to any situation. The first of these are man-down alarms, which come alongside our newest range of DECT handsets. This innovative technology can recognise when a handset has fallen at an unnatural angle and automatically sounds an alert to all nearby handsets. This allows you to react quickly and keep your team safe.
Call recording
Keeping a comprehensive record of all calls made to and from your business is a great way to stay secure and guarantee that every customer order is fulfilled. Our cloud call recording service keeps your calls stored in a database that can then be accessed on a device of your choice.
From here you can refer back to specific calls by searching by time or client. This is great when you need to double-check any prior specifications made by a customer. You can also randomly sample calls to listen back to. At One Connectivity we usually recommend this service for staff training. It lets you keep costs down by better training staff in the right call handling techniques.
Finally, recorded calls are the perfect way to settle any disputes in the rare occasion that they arise.
Professionalism, anywhere
As we've mentioned previously, we know how crucial flexibility is for teams in the manufacturing sector. You need to be able to make and answer client and team calls wherever you're working. That's where our unified communication (UC) platform steps in.
UC essentially makes the power of your phone system portable. Unlike DECT handsets, with UC you can download an app on a device of your choice, which you can then handle calls from using your normal office number. This also extends to sending instant messages, listening to your voicemails and hosting video conferences. It even includes voicemail to email, so you can listen to any urgent messages whenever you need to.
We've seen this service add a huge amount of versatility to your remote working plans. If you have staff working out in the field, you can video call them to get a better understanding of their work that day. If you're working from home and need to reach a client, you can do so without them knowing you're not in the office. The options are really endless.
CRM Integration
The final feature we wanted to mention is CRM integration. This service allows you to connect your phone system to your customer database, for more efficient call handling. When a customer calls in, you'll see their details immediately, allowing you to respond to them by name and have an instant understanding of their needs. It goes both ways too, and you can use click-to-call to start an interaction directly from your CRM.
We can integrate alongside well-known platforms such as Salesforce and Hubspot, or work alongside your team to integrate with manufacturing industry specific platforms.
If any of these services sound appealing to you, we'd love to get in touch. You can reach us here at One Connectivity on 0115 896 88 60.