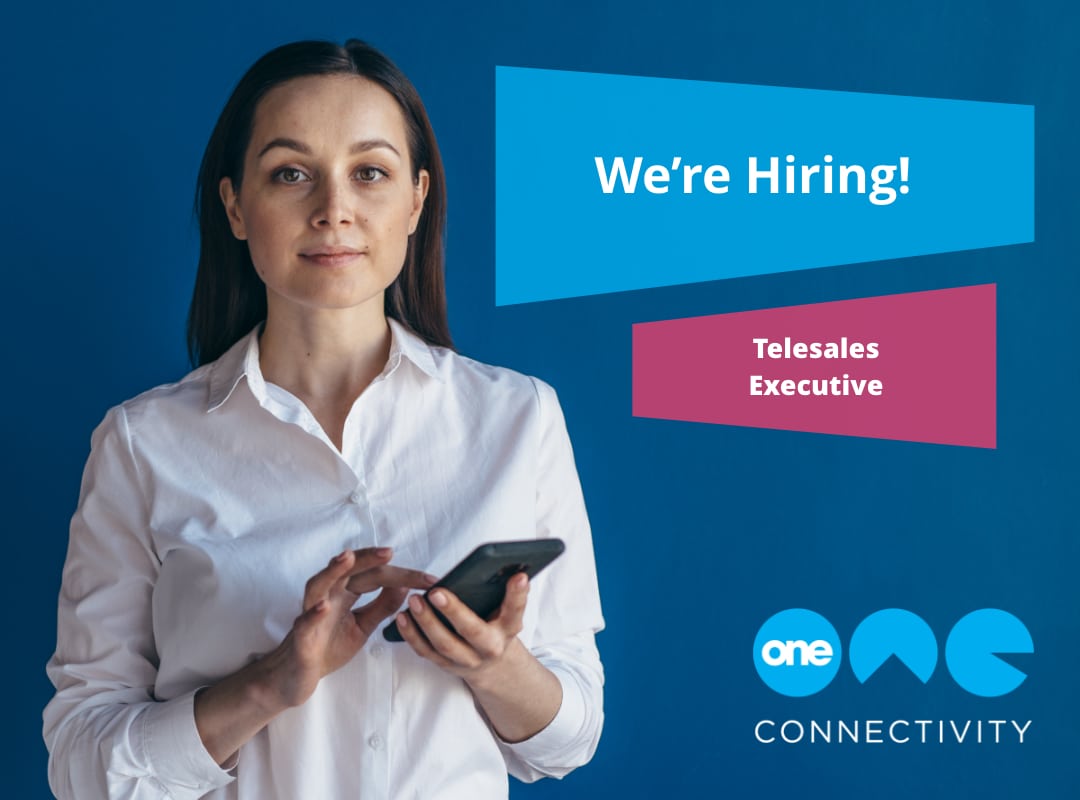 17 Jun

We're Hiring! – Telesales Executive
At One Connectivity, we're looking for a Telesales Executive to join our fantastic team.
The role: Telesales Executive
Salary: £18,000 basic – £30,000 OTE + benefits
Location: Castle Donington, Derbyshire DE74
Hours: Monday – Friday | Full Time | Permanent.
Benefits:
• Excellent starting pay with a multitude of perks
• Personal development with career progression prospects
• A plethora of team social events
We require a team-spirited Telesales Executive who can acquire new business leads to add to our existing client portfolio, and at the same time help the company achieve monthly and yearly sales targets, focusing on growth and retention. You will be expected to bring in new sales and also assist the Sales Team in maintaining good relationships with our existing customers.

Your key responsibilities as a Telesales Executive will include:
• Promoting One Connectivity business to potential customers through outbound telephone calls from our office in Castle Donnington
• Taking positive action to develop new sales and relationship-building skills, thus increasing personal effectiveness and productivity
• Maintaining a high standard of quality calls to ensure that our brand is represented accurately and professionally
• Recording and passing on accurate details of sales opportunities to the Management Team
• Working towards and achieving daily and weekly targets (both team and individual)
The Company:
The company is dedicated to delivering excellence and building value together on our journey through the rapidly developing world of IT and telecommunications. We are one of the UK's leading independent providers of communications in hosted/VoIP solutions, mobile voice and data, fixed line, phone systems, tablet solutions, IT services, IT connectivity and tracking/lone worker solutions.
At the heart of our business in delivering solutions is the experience, expertise, and professionalism of our team, committed and driven to offer a professional and excellent service.
The Person:
The key skills and qualities of a Telesales Executive:
• Experience in a telesales environment with a proven track record of converting business opportunities and achieving sales targets
• A solutions-oriented mindset with the ability to identify new business opportunities
• The passion and drive to succeed in a fast-paced sales environment
• Excellent IT skills and use of Microsoft 365 programmes
• Flexible and is a team player
This is designed as a full-time role, but we will also consider part-time applications. If you are keen on joining this exciting, forward thinking company and taking the next step in your career, then please email stacey@oneconnectivity.co.uk before Friday 2nd July 2021.