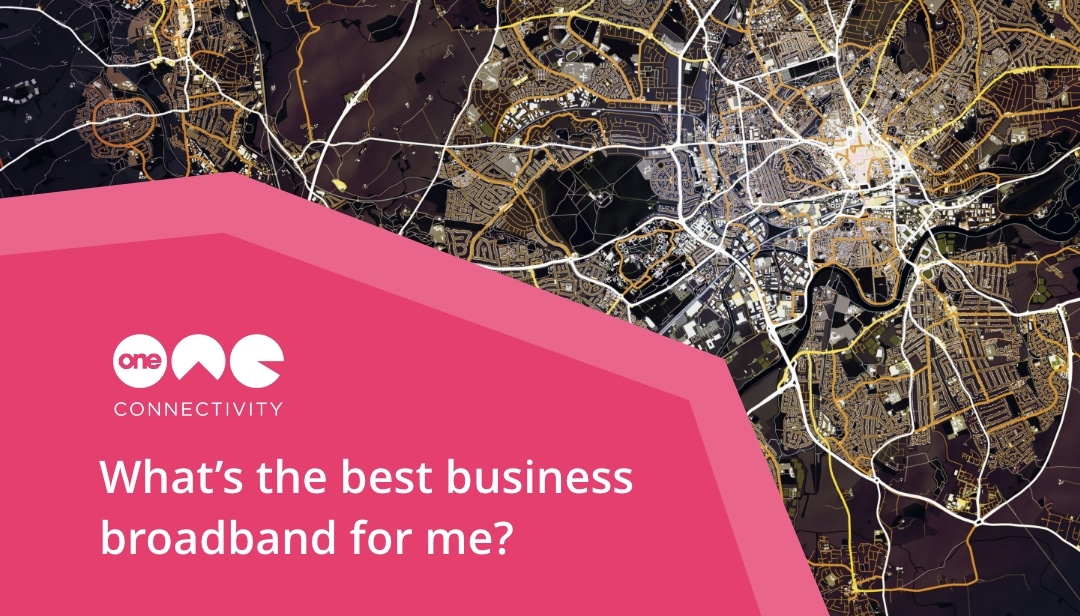 09 Jun

What's the best business broadband for me?

Finding the right business broadband used to be a fairly simple task, you just picked the provider that offered the best connection and away you went. Now with the arrival of new services and an increased focus on flexibility, it's a lot more complicated. That's what our blog is here to help with today. We'll cut through the jargon and explain the benefits of each service available to you, whether you're in the office or working remotely.

How to choose the right business broadband?
Every business has different priorities when it comes to their broadband. You need a service that offers you and your team the highest speeds for the best price. If you're looking for something truly cost-effective, your first choice might be ADSL.
What is ADSL?
ADSL is the most common type of business broadband. It involves running copper lines to businesses from BT Openreach's extensive existing landline infrastructure. To put it simply, if you don't have fibre broadband you probably have ADSL. It's affordable and can support many businesses who don't rely on the internet for the majority of their daily work. It can manage single video conferences and less broadband intensive tasks.
The world of work is trending towards more online intensive services though, and to truly future-proof your business you need to look towards a more powerful service. This likely means FTTC, FTTP or a Leased Line…
What is FTTC?
FTTC (Fibre to the Cabinet) is the most common fibre broadband service on the market today. It involves running fibre optic lines to your local exchange, and then using Openreach's copper lines the rest of the way to your premise. This allows for faster speeds while still keeping costs as reasonable as possible. FTTC is what you're probably thinking of when someone says fibre broadband.
FTTC can support a huge range of business services. It's ideal for the new range of communication services on the market today. Whether you need to share documents, host video calls or collaborate with remote staff, FTTC can effectively support small businesses throughout most sectors. FTTC maintains an average download speed of 66.0 Mbps, and an upload of 17.0 Mbps, it's available throughout 96% of the UK!
What is FTTP?
FTTP (Fibre to the Premises) is the step above FTTC. It's a relatively new service, and it's roll out across the UK is still ongoing. If you can access it though then it can offer a range of serious benefits.
Unlike FTTC, FTTP runs fibre optic cables directly to your premise, with no reliance on older copper wires. Openreach are currently in the process of bringing FTTP to UK businesses, but many other providers, such as our partners at CityFibre, are helping to massively speed up the process. FTTP is currently available throughout 36% of the UK, but with speeds of up to 1000Mpbs down and 115Mpbs up, you're in for a massive upgrade if you can get it.
FTTP can be surprisingly affordable as well, likely only a small monthly increase on FTTC. CityFibre aim to have their FTTP network complete by 2033, but check your area's availability to find out if you can take advantage of this service today.
An FTTP connection allows your team to host as many online services as you need, and is likely to be able to support your business for decades to come.
What is a leased line?
A leased line is the best of the best when it comes to connectivity. They can be tailored specifically to the needs of your business and run directly to your business via copper pairs. Leased lines are incredibly powerful, they can be scaled up or down depending on the connectivity needs of your business.
If you add a new office, want to host a servers or other network equipment like security services, or are just seeing an increase in staff, a leased line allows you to accommodate them all easily. Leased lines feature symmetric bandwidth, meaning that their upload and download speeds are matched. This means that hosting services on-site is just as easy as downloading information from the internet.
Leased lines are more expensive than FTTP, but have a much wider availability, they are available across over 90% of the UK.
What options do I have for mobile connectivity?
When you're working remotely you need to stay connected. If you're at home then your house's broadband might do the job, but while on the move you need to ensure you've got the right mobile data tariff. At One Connectivity we can help.
We've got great relationships with the top mobile providers in the UK, meaning we can help you to get the best tariff. This includes 5G connectivity in major cities, and accessories like 4G dongles that help you to keep all your devices connected on the move.
If you'd like to find out more about any of the services mentioned here, get in touch with OC at 0115 896 88 60.