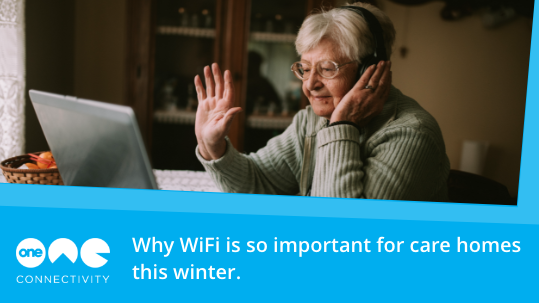 18 Nov

Wi-Fi for Care Homes: Why it matters more than ever

The care sector has come under pressure over Wi-Fi provision before. A survey by the review site Carehome.co.uk revealed that as many as a fifth of care workers said their workplaces were without internet access, prompting criticism from the Government. And this was in 2019, before COVID-19 changed the sector forever.

As access to care homes became restricted to protect vulnerable residents, the importance of connectivity became clearer than ever. Residents' wellbeing depends on face-to-face contact with family and friends, and only Wi-Fi provides this when visits are restricted. With COVID cases continuing to rise and experts warning of a difficult winter, we may see more limits on visitors, bringing the need for connectivity into sharper focus.

This is just one benefit. There are many reasons why Wi-Fi is an essential part of the modern care home …

COVID isn't over
We've been out of lockdown for a while now, but the possibility of returning has never gone away. Unfortunately, cases in the UK are increasing, while many health experts are recommending stricter measures to avoid a winter crisis. Since care home residents tend to be in a higher risk category for COVID, some homes may choose to restrict visits whether the Government recommends it or not.
In light of all this, Wi-Fi can be a vital connection to the outside world. Contact with friends and family is critical for residents' mental health, and web-based videoconferencing enables this. Even without physical contact, it allows residents to see and hear their loved ones. Not only does this boost their individual mental wellbeing, but it improves the atmosphere of the entire care home, benefitting staff and residents alike.
The importance of friends and family
All care home managers understand the role of friends and family in a care setting. Study after study shows that they play an essential part in residents' morale. Quite simply, time with loved ones keeps us happy and makes us feel those connections we all need. But for care home residents, there are other considerations as well.
Regular contact with familiar faces prompts reminiscences that can guard against memory loss. It also gives residents a sense of connection with the outside world. Even in the best-rated care homes, residents without outside support can start to feel isolated – or, worse still, institutionalised. It doesn't have to be that way, even if the doors are locked to family and friends due to COVID. Face-to-face contact, with all its benefits, is possible online. Even without COVID restrictions this is helpful, as it's not always possible for visitors to come along in person. This means that Wi-Fi offers residents even more opportunity to connect with those they love.
Leisure and entertainment
More and more of us are turning to online sources as an alternative to TV for entertainment and news. It's no wonder either, as there's a whole world of choice and it's not bound by TV schedules. There's no reason why care home residents shouldn't feel the benefit of all this too. It's a great alternative for group entertainment activities. Subscription services like Netflix offer a huge range of options, while free services like BBC iPlayer allow you to keep up with TV and radio on a flexible schedule.
It's not just group activities either. These are of course beneficial in fostering a sense of community among residents. But at times, we all need a moment to ourselves. Whether it's music, movies, TV or news, Wi-Fi enables us to do this on our own terms. If residents can take a moment to watch what they want, when they want, this can help give them the sense of control and independence that's so important to their self-esteem and wellbeing.
Keeping healthy
Another difficulty that can arise when visits are restricted is the lack of access to non-emergency medical services. Most care homes can't offer a full suite of healthcare provision in-house, and residents may need any number of services, from GPs to consultants. A phone call can go some way to make up the shortfall, but it's not always enough. There's no scope for physical examination, and none of the reassurance of face-to-face contact.
With Wi-Fi, it's possible to recreate that. It allows doctors to examine residents visually, in a more comforting setting than a voice call. Whether restrictions are in place or not, videoconferencing is also more COVID-safe than an in-person visit – a critical concern for care homes, where residents are at high risk from the virus. A care home with Wi-Fi can offer face-to-face contact with doctors remotely, ensuring that residents' health is always looked after, whatever this winter has in store.
How we can help
Quite simply, we're specialists in connectivity. We have years of experience in Wi-Fi and broadband, from simple business broadband provision to designing and installing cabling infrastructure. We also take pride in our honesty and refusal to sell our customers things they don't need. Frankly, it's easy to overpay for Wi-Fi and many businesses do. It's also easy to underpay and end up with frustratingly slow speeds. Here at One Connectivity, we can help customers get the balance right.
There are many variables when it comes to installing Wi-Fi in a care home. To name just a few, you need to factor in coverage in the area, the layout of the building, the number of users, and the location of access points. We will put all our expertise to use to make sure all this is just right, so that our customers have all the bandwidth they require in all the locations they need it. Many care homes are on older premises, sometimes in listed buildings. We can provide wireless access points to ensure there's coverage everywhere it's needed, without the expense, inconvenience and risk of drilling holes. We can even help our customers run on multiple networks, so that residents' internet usage doesn't slow down staff systems and vice versa.
The benefits of Wi-Fi for care homes are immense, but so is the range of options. At One Connectivity, we are proud to offer expertise our customers can trust. Whatever the care home, wherever it's based and however large or small, we can help keep residents connected this winter and beyond.
If you want any more information or advice on connecting your care home, we'd be delighted to help. Just give us a call on 0115 896 88 60.