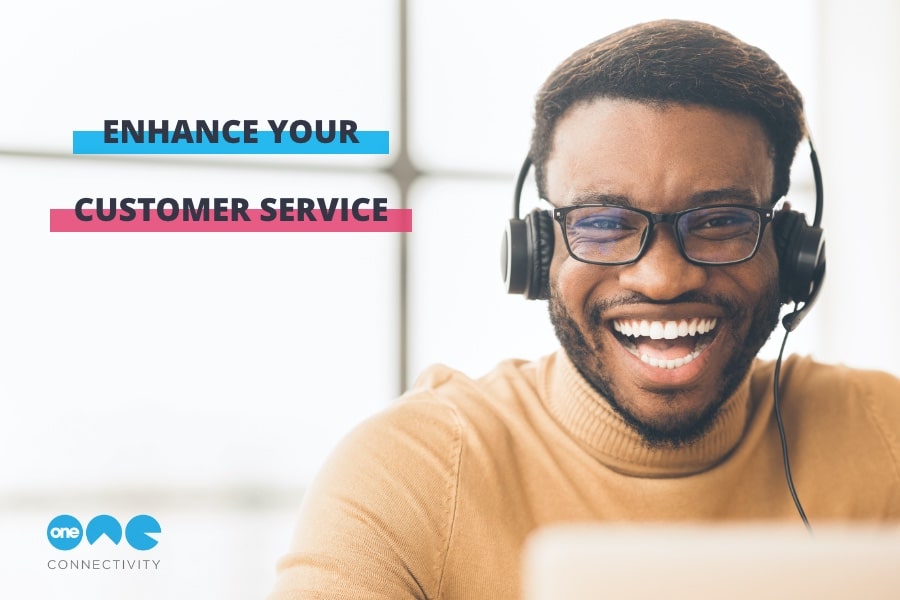 15 Jan

6 Ways your phone system can improve customer service

In today's environment, many businesses are looking for any edge they can get over their competitors. First and foremost among these is a push toward better, more effective customer service. Efficient customer service means more than just picking up the phone promptly. It means ensuring the caller doesn't need to call back. It means understanding a caller's history and notes before speaking to them.

Fortunately, the intelligent application of technology can make all of these things easy. Modern cloud phone systems are perhaps the most valuable tools available to help improve your customer satisfaction and retention. This blog post will cover just a few of the ways that modern phone systems can benefit your customer service.

 
Direct your callers to the right team, every time
The first goal of inbound call flow controls is to route each caller to the best team for their query. You have probably used Auto Attendants (or IVRs) before, but you may not know quite how powerful they can be in modern systems.
The latest phone systems and Unified Communications platforms offer advanced configuration options like opening hours, direct extension dialling and multi-level menus. You can even configure announcements or recorded responses to common questions. This means that many customers can have their questions answered before they even reach a real person.

Form an orderly queue
Auto Attendants are phenomenally powerful tools. Their primary purpose however, should be to route callers quickly and effectively to your customer service teams.
Queues are more than a line of callers waiting to be answered. Skills-based routing, for example, categorises each call depending on its origin and matches it to individual agents with relevant skills. This is fantastic in a multi-lingual environment. Assigning first, second and even third languages to each agent ensures that each caller will get through to the first available person who speaks their language.
CRM integration maximises productivity
As Thomas Jefferson once said, Knowledge is power. Once you're speaking with your caller (in their chosen language!), being able to refer back to notes and recordings of previous contact helps you stay fully aware of their situation and more importantly, give a more effective solution based on all the facts. CRMs are essential, giving you an overview of each individual client's account.
Searching through CRM records can take time, and with manual data entry there is always the possibility of error. Modern UC platforms and phone systems like ours integrate natively with a huge range of third-party CRMs. This helps to automate data entry, link call recordings, and even enable features like click to dial and screen popping.
Screen popping especially is of huge benefit to customer service teams. By automatically displaying customer records on your agents' screens every time they answer the phone they save time and gives all the information from previous interactions.
Work without boundaries
Cloud phone systems can be used from any internet connection on the planet. We don't need to tell you how useful this support for remote working has been in the last year.
Remote working, and all the remote management tools that make it possible, ensures your customer service doesn't have to take a dip when you can't come to the office. Modern cloud systems also support desktop and mobile apps. This gives your staff the ability to work from any device without worrying about whether they'll be able to stay in touch with their colleagues.
Until the advent of cloud technology, and especially VoIP, intensive team roles like customer services could not practically be carried out remotely. The advances in technology and reductions in cost afforded by the internet has unlocked remote and flexible working in a huge range of industries. This has shown to improve staff morale and customer service at the same time.
Next-generation cloud technology
Our cloud phone systems offers far greater reliability than any on-site alternative. By basing our phone system in several different data centres we've made sure that your service is safe in any eventuality.
Of course, the de-centralised nature of cloud technology helps protect you against any problems in your office. Where power cuts would previously put a halt to business, they are now no more than an inconvenience. Your staff can simply sign-in to your phone system from home and carry on with work uninterrupted.
Keep an eye on it
Advanced statistics and analytics tools help you stay on top of demand, and are essential for the successful operation of contact centres. Whether that means displaying crucial live statistics on a wallboard or taking a deep dive into historical data to project future usage, modern VoIP systems have a leg up over older ISDN systems.
Wallboards inform staff and management alike of the daily performance of the teams. They provide much needed information at a glance; visibility of missed and returned calls, call volumes and waiting times can be a great aid to team performance and cohesion.
This is even more useful in remote environments. As we know, effective customer service requires teamwork. Having easy visibility of who's available and how many calls are waiting is helpful when you can't be in the same place as your teammates.
Hopefully this article has given a good overview of how modern technology can help your staff maintain high standards in any eventuality. Cloud systems can be used to get answers to your callers sooner than ever before. Maximise your efficiency and gain the excellent reputation you deserve.
Our phone systems and Unified Communications platforms are useful for everyone in your business, not just your customer service teams. Do you want to improve collaboration, productivity and availability across your whole company? Why not request a free quote from One Connectivity today.
Tel – 0115 896 8860
Email – hello@oneconnectivity.co.uk