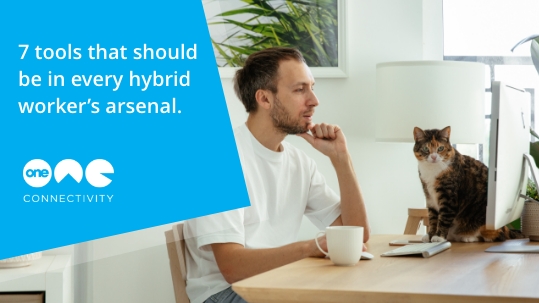 24 Feb

7 Tools that should be in every hybrid worker's arsenal

Hybrid working is here to stay. The benefit that people in nearly every industry have seen by being allowed to work from home is too great to ignore. Businesses have also done well out of offering a hybrid working policy. The option to work remotely improves the productivity of many staff members, and allows you to draw from a much wider pool of potential talent when hiring.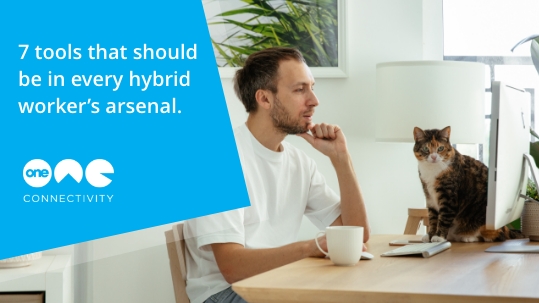 Despite this, at One Connectivity, we speak to many businesses who feel like they still don't have the process mastered. Whether it's communication or morale issues, or just a lack of cohesion throughout the business, it can be difficult to get remote working right. Using the right tools for the job massively improves your chances though. Here are our top 7 tools that should be in every hybrid worker's arsenal.
1. Softphones
Communication is possibly the number one challenge faced by remote and hybrid workers. A traditional office phone system usually requires a significant amount of equipment to work at its best, which most remote workers usually lack. The arrival of VoIP phones that only require an internet connection is great, but you can this one step further.
Softphone functionality now comes included with a variety of business phone systems. This adds an application to any device of your choice that allows you to manage your communications. It has the same features as your office system, allowing you to make, receive and transfer calls as you normally would. Everything's handled by a user-friendly interface and you can even keep the same number as your office system.
2. Team Collaboration software
It's difficult to maintain team spirit when you aren't all in the same room. When working remotely, it's important that you can check in with your team to guarantee that you're all on the same page.
There is now a brilliant variety of team collaboration software available. Many of these services can connect to your phone system for an added layer of convenience and professionalism. When looking for these services, we recommend using one that features video conferencing, instant messaging, a presence system and file sharing. These allow your team to maintain better relationships with their colleagues and customers, ensuring nobody is left out of the loop. Check out our previous blog to learn more.
3. Call Analytics
When implementing a hybrid working strategy, quality control and customer service need to be kept in mind at all times. Without the proper oversight it's easy for standards to slip and for customer requests to not be addressed in good time. For teams like estate agents this can potentially cost hundreds of thousands in lost business.
A call analytics package can help. This service includes real-time statistics and regularly scheduled reports that show the status of your communications. This includes which team members are handling the most calls, your busiest times of day and any calls that have been missed. This allows managers to quickly address any customers who have been missed, and better assign resources moving forward. For better customer service training moving forward, you can even include call recording.
4. CRM Integration
Another great customer service feature that remote workers can use is CRM integration. Your business likely uses CRM data every day when dealing with customers. This data allows you to provide a tailored service to each customer and keep consistent records.
Accessing this data remotely is great, but did you know that you can integrate your CRM with your communications? This means that when calls come in from customers, you can quickly see their CRM data, allowing you to quickly address their needs. It also allows you to save time by initiating a call with a client simply by clicking their number in your CRM.
5. Outlook Integration
CRMs aren't the only software that you can integrate alongside when working away from the office. We know how difficult it can be to successfully schedule meetings alongside your colleagues when you don't know what they're up to.
Our unified communications service features Outlook schedule synchronisation. This shows at a glance who's in a meeting and when, displaying them as busy on your application. This is a quick and easy way to keep in touch with your colleagues in a more organised way.
6. Business Mobiles
Not every tool in your remote working arsenal has to be a clever piece of software. Sometimes the only thing standing in the way of a productive remote worker is an outdated mobile. Many of the services we've mentioned here can work at their best on a mobile, and missing out on the productivity benefits that mobiles can provide could be a big problem.
At OC, we can help. Our relationship with the top 4 UK mobile providers means that we can negotiate the best deal, based on your needs and location. We can also provide remote management software, so you can keep track of all your company mobiles, to make sure they have the right security software installed.
7. Password Management
Speaking of security, cyber-crime has risen massively over the past two years and remote working is one of the reasons why. Without colleagues to turn to when something doesn't look right, threats are going unnoticed.
Maintaining backups and passwords is crucial to staying safe. If hackers can use phishing to access one password, if you haven't taken the proper steps they could have access to a huge range of your essential services. We recommend using a password management service, which allows authorised staff to quickly find the passwords they need, while making sure you always use the most secure combinations.
To find out more about how you can access these services, get in touch at 0115 896 88 60.
#GetTalking
Mental health is still somewhat of a taboo subject in a business environment, and alongside local business leaders we're here to change this.
Over the next few weeks, we'll be sharing a series of posts across our website and social media that takes a different approach to business communication. We're working alongside our clients and partners to talk more about how to manage mental health in and outside of the workplace.
To join this initiative and help us to support the Campaign Against Living Miserably, you can download and complete the #GetTalking placard, post on social media and tag us in and we'll donate £2.50 on your behalf. Or you can simply make a donation directly to our Just Giving page at https://www.justgiving.com/campaign/oneconnectivityxcalm