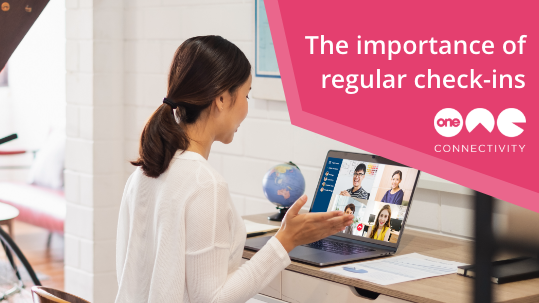 18 Feb

The importance of regular check-ins

Mental health in the workplace is changing. The rise of remote working has massively shifted the dynamic in many businesses and for some it's unlikely that they'll ever return to the office full-time again. Businesses have had to adapt quickly in the past two years to make sure that client communications and essential collaboration is still possible. Are the tools and techniques you use right for your team?

Maintaining a positive working environment can be difficult when your staff aren't in the office. You need to make sure that the technology you use allows you to stay in touch and maintain a friendly and warm atmosphere. When working from home it is easy to become detached from the workplace, which is massively detrimental to mental health, as well as productivity.

That's why today's blog, as part of our GetTalking campaign, is going to take a look at the best ways to check in with your remote teams and the benefits that this can bring.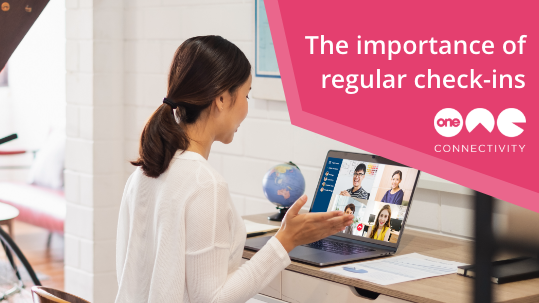 The daily video call: keep your team connected
Video conferencing has become a staple of business communications, especially for remote staff. It's a great way to check in with your team on a regular basis.
We recommend hosting a team call every morning. This can be on a company-wide basis, or between specific teams or groups. This call should cover everything that people have achieved the day before, what their plans are for the day ahead and what they need help with. It sounds simple, but it stops anyone from feeling disconnected or helpless.
We know that not everyone will be able to make every call every day. However, you can improve availability by working with a communication service that works better in a range of environments. A unified communications platform allows you to host and join group video calls anywhere with an internet connection, from a device of your choice.
The client catch-up: keeping customers happy, from anywhere
Nurturing relationships with your clients used to involve a lot of travelling. Especially in the professional services, heading from one meeting to the next was most of the daily routine. Regularly checking in with your clients using technology helps to keep them in the loop and improves the work life balance of your staff.
Using a video conferencing service to host client meetings means that your field sales staff don't have to spend quite so much time on the road. This added flexibility allows you to get in touch with more customers each day without compromising on that face-to-face connection.
Of course, when clients get involved, you need to prioritise quality. You need to be always providing high-quality audio and video feeds. For this you need an internet connection that can support hosting simultaneous video calls. We recommend adding WiFi access points to locations around your site to allow better connectivity in every corner. You can also take access points home to better extend broadband connections for remote workers.
Check in with field staff: Provide insights and support
Even if you adopt video calls to keep in touch with clients, we know that some staff will always be out and about, whether you have engineers or technicians in the field or are a transport and logistics business with drivers out on the go. Keeping these staff members in the loop used to be a huge challenge. Using technology to bring them back into the fold has plenty of benefits though.
Using video calls means teams in the office can gain a better understanding of what your field staff are up to. This means that information and support can be sent across much more easily. This extra level of support helps field staff to feel connected to the rest of their team and it's an ideal training resource as well.
Of course, video calls are not always the answer. Sometimes it's much easier to send an instant message when in a hurry. Equipping your team with business mobiles or cordless DECT handsets are both great ways to stay connected on the go.
Things to look out for
There's a reason why this blog was titled "The importance of regular check-ins". The effectiveness of video calls relies on the way you use them. When used too spontaneously, video calls can cause anxiety and stress for those on the receiving end. People are prioritising their work life balance more than ever, and won't appreciate being ambushed with an unexpected conference, especially when working at home.
Studies have shown that video calls genuinely reduce feelings of anxiety and loneliness. They are a great tool for any business looking to implement some new flexible working practices. To find out more about how you can access these services, get in touch at 0115 896 88 60.
#GetTalking
Mental health is still somewhat of a taboo subject in a business environment, and alongside local business leaders we're here to change this.
Over the next few weeks, we'll be sharing a series of posts across our website and social media that takes a different approach to business communication. We're working alongside our clients and partners to talk more about how to manage mental health in and outside of the workplace.
To join this initiative and help us to support the Campaign Against Living Miserably, you can download and complete the #GetTalking placard, post on social media and tag us in and we'll donate £2.50 on your behalf. Or you can simply make a donation directly to our Just Giving page at https://www.justgiving.com/campaign/oneconnectivityxcalm[/vc_column_text][/vc_column][/vc_row]