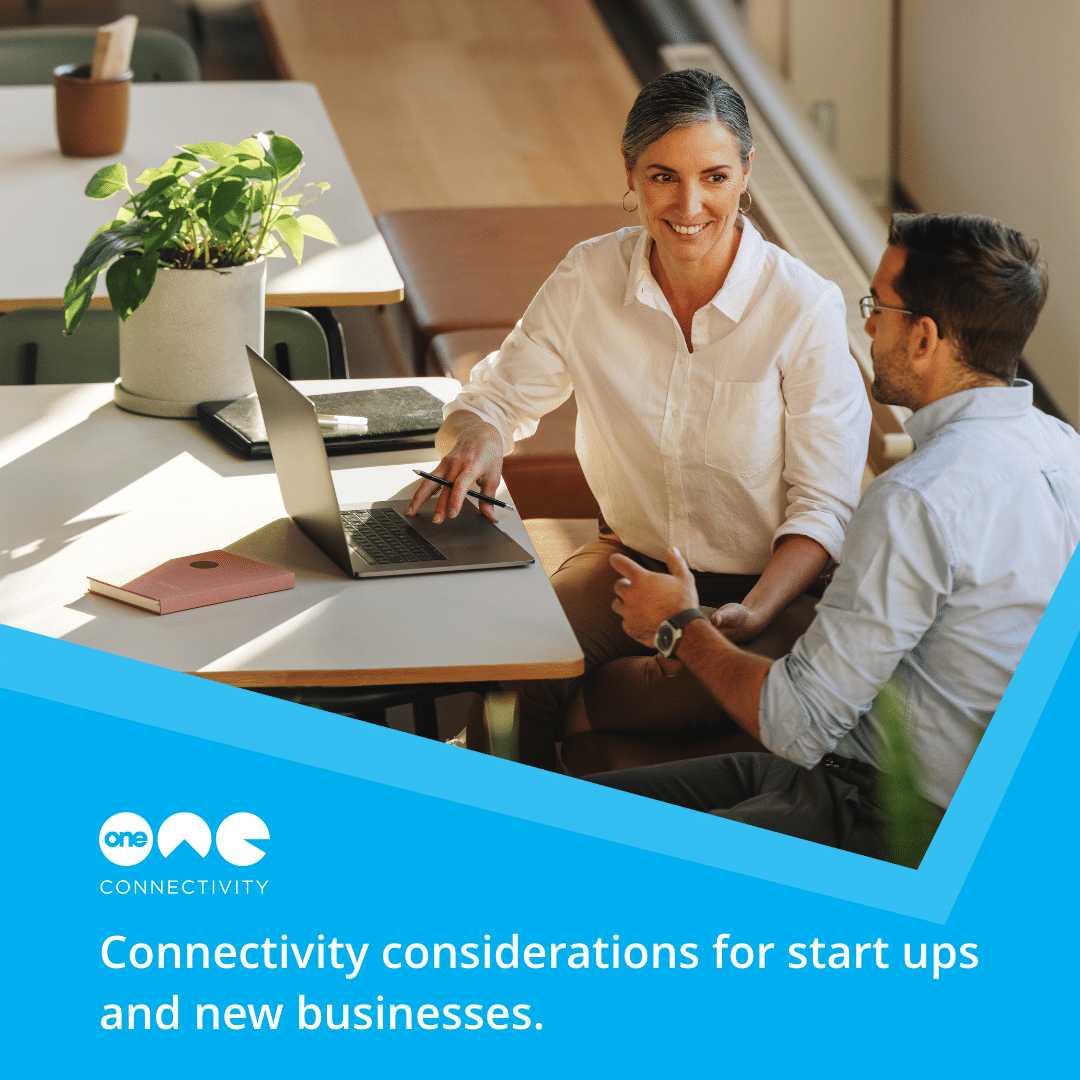 14 Oct

Connectivity considerations for new businesses

When your business is starting out, we know how much there is to think about. From developing your unique selling points, finding your first office premises and making sure you've got the right team around you. We know that utilities probably aren't the most exciting item in your list of priorities, but they should be taken into consideration sooner rather than later. The first thing to look at should be connectivity.

Businesses need to get online for a huge variety of reasons. From communications with customers, collaborating with staff, accessing productivity services or just browsing the internet. You might also make use of essential services that require an internet connection to keep working at their best, this could be hosting a website, VPN or security services.

In this blog we'll explain what you need to consider as a new business looking for the right connectivity service. From the options available to you, to the benefits that having the right type of connectivity can bring.

Why business broadband is essential
You might have read that introduction and thought, "hold on, I've already got an internet connection?" That might be true, but a consumer broadband service won't support business needs for long, and at worst can be a security risk. We offer a range of fibre connections that keep you connected in a more sustainable way for the long term.
Relying on a home broadband connection doesn't guarantee you anywhere near the speeds and uptime that a business solution does. Even smaller teams need to ensure that their communications and other essential processes stay up and running. Home networks designed for browsing and streaming can't provide this level of reliability. So what are the alternatives? We know that new businesses have tight budgets and limited resources, but there are still many options available.
Accessible fibre connections
At One Connectivity we offer both FTTC and FTTP fibre connections. These services each suit different businesses for different reasons. Fibre To The Cabinet connections are superfast, providing download speeds of up to around 70Mbps. This service is the most accessible ways for new business to access fibre connections. 96% of the UK can access FTTC connections, and it is great for start-ups and smaller teams who need multiple employees to access connected devices.
FTTP stands for Fibre To The Premise, this connection leads directly to your business and is designed for businesses working across multiple sites, or those who have employees who need to access a reliable connection anywhere on site. This service is incredibly fast, with download speeds going up to a staggering 1000Mbps. These speeds give your business the fastest possible connection moving forward.
You might not need the highest speeds as you're starting out, which is fine as FTTP connections can be scaled to suit your budgets and needs into the future. It's also reliable, being resistant to electromagnetic interference and nearly completely immune to cyber-security threats.
Keeping remote working connected
As a new business you'll need to be flexible. Many staff won't be working from the office all the time, and to guarantee the success of your service it is crucial that staff can still access a reliable connection. Thankfully there are cost-effective devices out there that can offer a reliable signal in remote working environments.
A 4G dongle allows you to connect a device of your choice to high-speed 4G signal if it is available. This is ideal for making video calls, sharing files or utilising bandwidth intensive content on the move.
If you're out with a group of colleagues, you might notice that some people's devices can maintain a stronger signal than others. To make collaboration more efficient, try using a MiFi device. These services offer a portable WiFi hotspot that all the devices within your team can connect to. If you notice that certain staff mobiles are falling behind, check out our business mobile plans to get them back up to speed.
The services that can support your business moving forward
If you're looking to expand and guarantee that your business can stay reliably connected moving forwards, it's worth planning ahead. Your connection supports you now, but will it support a new premise or 20 new members of staff? This is where leased lines can help.
A leased line is an ethernet connection that exclusively runs to your business. This comes with a variety of benefits. The first is speed, the capacity of a leased line can be scaled up and down to meet your exact budget and bandwidth requirements. This means not only can it support your daily activities, but it can also maintain critical services such as websites, VPNs and security software.
The second advantage is support. With a leased line your support service is enhanced, with all faults fixed within 6 hours as standard. As your business grows, leased lines provide a great opportunity to put a system in place that can help you for years to come.
If you're interested in any of the services mentioned here, get in touch with a member of the One Connectivity team at 0115 896 88 60.