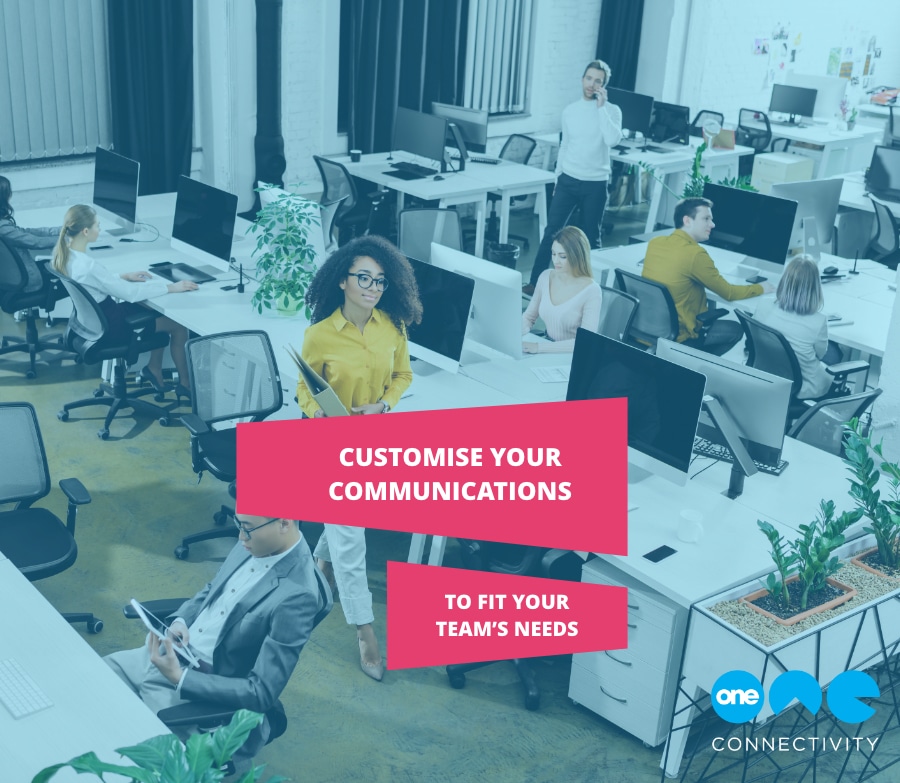 03 Jun

Customising your phone system, making your tools work for you

No two businesses are exactly alike. No matter the industry you work in, there are different requirements that each team will need. Whether this is in the form of the office you use, the people you hire or the technology you work with. At One Connectivity we can only help with that last one, but there are a few top tips that we think can help.

When it comes to the technology that your business uses, your communications are arguably the most important. To customers they are a good representation of your professionalism and for your team they make a lot happen in terms of collaboration and productivity. It's important then that your phone system suits you.

There are plenty of additional services that can be added to your phone system to make a real difference. From tools to prevent missed calls, to speeding up processes and assisting teamwork. Your phone system can be customised just as much as your laptop. In this blog we'll cover some of the additional features that can be added to your phone system, and where they can help your team.

Auto Attendant: Keep customers engaged
An auto attendant service organises your call process, improves handling times and provides a more professional image. It greets any caller with an automated message that you can program yourself. From here it can provide useful information, market your additional services, or run through an identification process.
This process can sometimes resolve a customer's issue before they even reach your team, taking away some of the stress at busy times. It can also ensure that customers are directed to the member of staff that can best handle their request. This saves everyone's time and ensures that each customer receives a bespoke service.
Call Recording: The ultimate training tool
Keeping records of important documents is something we do every day, so why not extend that to your calls? Call recording has come a long a way in the past few years and it can have huge benefits for your team moving forward.
Depending on your industry, it can be incredibly useful to record calls with customers as a digital signature. This allows you to keep a record of the exact service they asked and paid for. It can also act as a brilliant training tool. You can simply record your star customer service operator unobtrusively and use their recordings as a training tool for new hires. Similarly, if someone is falling behind, you can analyse a recorded call together to find areas for improvement.
Call Statistics: Track and improve into the future
It is exceedingly difficult to improve any system when you can't see the full picture. A Call statistics module can change that completely.
The first way it can help is through a wallboard. This is a display that you can broadcast on a TV or on a smaller scale to individual users. It shows them average call time, any missed calls and which users are putting in the best shift. From here it provides your team with all the information they need to improve performance moving forward.
Missed calls can be disastrous to a variety of industries, especially ones where each client can be worth thousands. Call statistics allows you to firstly prevent missed calls by making your call management process better, but also mitigates them by showing exactly where they came from, allowing for an easy follow-up.
Integrations: Streamline your work
It's helpful when all the tools we use for business work in sync with one another. Without a modern communication system, it can slow down many different areas of your business. That's where integrations can help.
Our communications systems integrate with the most popular customer relationship software. This includes very well-known services such as Salesforce, as well as specialist software such as Dentally and Property CRMs. This means you can see a customers' data from this software as soon as they dial in, keeping your team informed.
Integrations also work alongside productivity services such as Office 365 and Outlook. This means you can share and edit documents in real time through your UC service. This boosts collaboration seamlessly, especially for staff who work from home.
We hope that this blog has shed some light on the services that can make a real difference for your team. Of course, this doesn't cover every communication service that can help your team. There are a huge range out there that can be specialised and customised to suit your business' unique needs.
If you like the sound of anything mentioned here, then get in touch. Our team can help to guide you through the process and find a communications platform bespoke to your team.