30 Nov

Five ways to get your communications ready for Christmas

It's that time of year again! Christmas means different things to different businesses. In sectors like retail and hospitality, it's one of the busiest times. In others, it's among the quietest. Wherever your business stands, customers expect great service all year round. This is why it pays to make sure your communications are Christmas-ready.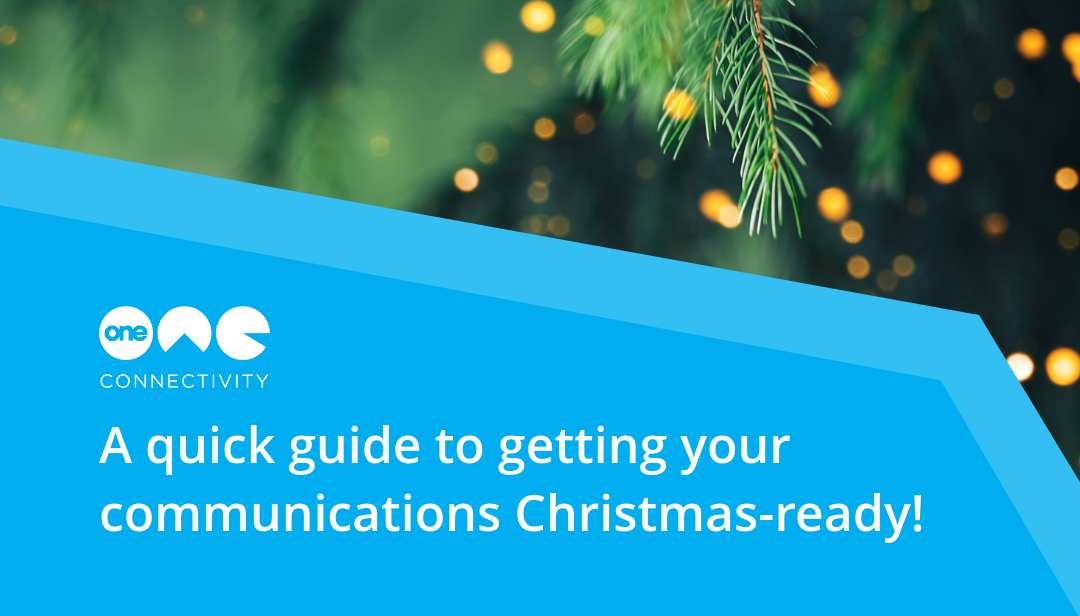 If things are getting busier, you may need additional phone lines to cope with the extra load. If you're going to be winding down for the year, you might want to manage customer expectations by letting them know. At One Connectivity, we're experts in communications technology, and we've helped countless businesses over the years. For our latest blog post, we thought we'd put that expertise to good use. These are our five top tips on making sure you're set for the festive season, so that both your businesses and customers can have a great Christmas!
1.    Update business hours on your website
If your opening hours change over Christmas, it's important to make sure your customers know. If you're open longer than normal, you could be losing trade if customers are left uniformed. It's just as important the other way around – if you're reducing hours, you need to be managing expectations.
We know it sounds simple, but it's so easy to forget. And these are the little details that determine how professional you look to customers. At One Connectivity, we offer a Web Listings service that can assist. This allows you to update hours and more on your website, social channels and Google Business account, all from one central online portal. This means you can control your business listings at the click of a button.
2.    Update your on-hold marketing
We're big fans of on-hold messaging when customers are calling or being transferred. It's a great alternative to traditional elevator style hold music, with benefits for everyone – your business gets to put out key messages, while your customers get to avoid cheesy music!
Christmas is the perfect time to update your messaging. Of course, you can use your on-hold marketing to put out important information like your Christmas opening hours. But don't forget that it can be another salesperson. On-hold messaging is a great channel for pushing any seasonal promotions you might have. We offer communications platforms that make this resource easy to manage and customise, so that so that you can the most out of every second of customer contact.
3.    Email your customers
We've covered some ways to keep up professional appearances when customers come to you. But it's also worthwhile to be proactive and reach out to them. Updating your customers by email is a way to make sure information finds them, whether it's about Christmas opening hours, promotions or anything else they need to know.
4.    Managing calls
Do you need to divert calls this Christmas? Can your phone system do this? Can you add new lines if you're expecting heavier call traffic? There's a lot to think about when it comes to business phone systems, especially at times when the workload changes. What really helps is to have a system that makes all this easier.
At One Connectivity, we offer a range of phone systems and communications platforms that allow you to manage calls at the click of a mouse – even if you're not in the office. This means you can show your customers the professionalism they expect in the most efficient possible way.
5.    Keep track of your voicemails
It's easy to let this slide at Christmas time. If your work hours are reduced, you might miss voice messages because no one's in the office to hear them. If Christmas is busier for you, you might miss them because there's so much to do. The last thing you want is to miss business because you didn't pick it up until it was too late.
There are ways of making this easy. For a start, your voicemails don't have to be stored in hardware that you can only access from the office. There are cloud-based systems that you can access from anywhere, whenever you want. At One Connectivity, we can go one step further and offer platforms that can email your voicemails to you as audio files. This means you know whenever you get potential business, wherever you are.
What can One Connectivity do?
The right phone systems and the simplest features can transform a business, offering greater efficiency, a more professional image and so much more. But there's a lot of choice out there, and a lot to consider when you're making a change.
Our speciality is business communications and connectivity, and what we believe in is offering our expertise with honesty and integrity. That means we don't upsell for the sake of it. Instead, we strive to tailor our services to your unique needs.
Business may be winding down or ramping up for Christmas. Whichever it is for you, communication always matters. We at One Connectivity can help make communication easier, so you can focus on what you know best: your business.
If you've got any questions at all, you can reach us at 0115 896 88 60. All that's left is to say merry Christmas to you and your team!