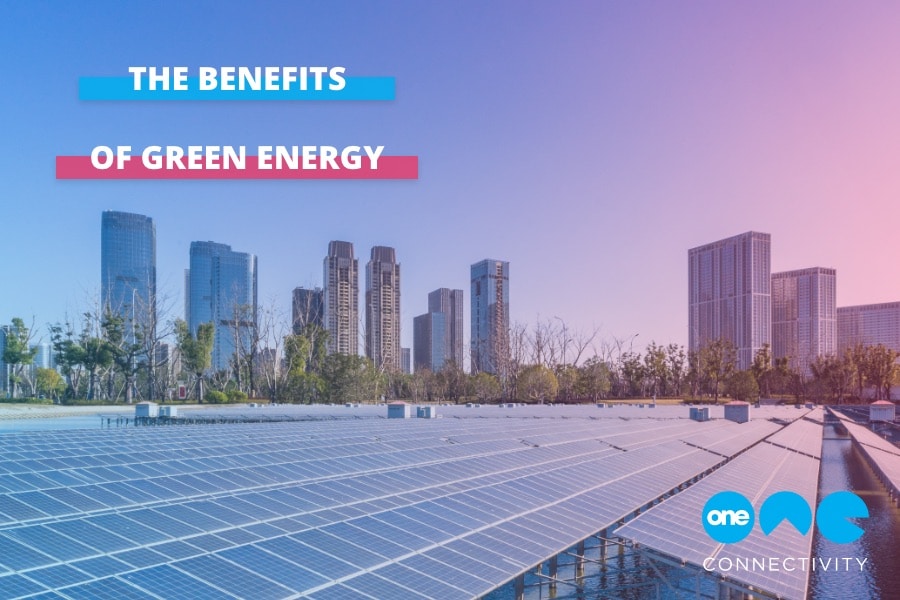 11 Mar

How Green Energy is Reshaping the Business World

By now it is an accepted fact that if the world of business is to keep advancing, we need to get green. There are many benefits to adopting green solutions outside of the obvious "saving the planet" thing. Businesses pioneering green technology are receiving a huge amount of goodwill and PR boosts. Something you may not know is that going green is a fantastic way to bring costs down and even to discover a more efficient way of working.

One of the easiest ways for teams to get aboard the green revolution is through their energy plan. Green energy has been around for a long time now in business terms and has shown its worth. The common trope a few years ago was all about green energy's lack of reliability; "how can the wind turbines support your business if it isn't windy?". Times have changed though, and now renewable sources are set to dominate the business energy market.

At One Connectivity we are fully behind this new green wave. We believe that renewable sources are the best way to power the technology businesses need. As such, we've put together this guide on some of the many benefits that switching to a green energy tariff can have for your business.

Green energy can save you money
There's a very high chance that your business is currently overpaying on your energy tariff. Many businesses start an energy plan and then neglect to review it months or even years later. This means you could be paying for much more than you really need. Combine this with the fact that prices for larger suppliers are increasingly on the rise, and you have a recipe for a large hole burned into your pocket.
Green energy tariffs often provide a great way around this. When you work alongside a service like ours, we do the heavy lifting for you. We scour our nationwide collection of energy contacts and find a plan in your area that suits you. Green energy is often provided by the big 6 suppliers, but it can come from smaller companies as well, who often attach a more wallet-friendly price tag. This act of price comparison can go a long way to getting you a better deal, but it's also part of a greater long-term process of ensuring you get the best deal.
Green energy is also predicated to become even cheaper soon, as it is set to overtake traditional energy sources.
Proactive Management
If you choose to work with a green energy plan, then the energy you use will come from a variety of sources. Beyond the usual ones we think of when someone says renewables. Biomass, hydroelectric and even bacteria digestion can power your businesses. This range of energy sources means that your business' energy is constantly being monitored based on your usage. Proactive monitoring means you are only supplied the energy that you need. So you can keep costs down without any input needed on your end.
You can also track your energy statistics with ease. This ensures that you are paying only for the services you need, but you can also quickly resolve issues if necessary.
Green energy gets you noticed
People all over the world now take green issues more seriously. Companies who act with the planet in mind are receiving a lot of goodwill. This publicity also sees the benefits of reduced costs. Many businesses have seen the best of both worlds. A study showed that businesses who take up green energy plans are seen as more innovative and profitable than their competitors.
Green energy is a fantastic way to market your business. Social media content based around green content receive a very high amount of engagement. It can even generate leads for your business among a more sustainability focussed audience, a market which is growing significantly.
Of course, it is worth mentioning the benefits that renewable energy sources have on the environment itself, which are huge. Power generation is one of the largest sources of emissions in the world, and any steps taken to reduce that are fantastic. Keeping your business on the right side of this important issue is a good way to generate goodwill amongst both new and existing customers, as well as your own team.
Overall, there are numerous benefits to green energy for businesses that should definitely be considered. At One Connectivity, we are partnered with Fidelity energy. We have a platform to compare business energy providers from. This allows us to consult businesses on the next steps of their energy plans.
Green energy is a huge part of this. We have access to a variety of plans that can keep costs down while still providing benefits mentioned here. To find out more about our energy solutions, get in touch on 0115 896 88 60 or visit our energy page here.