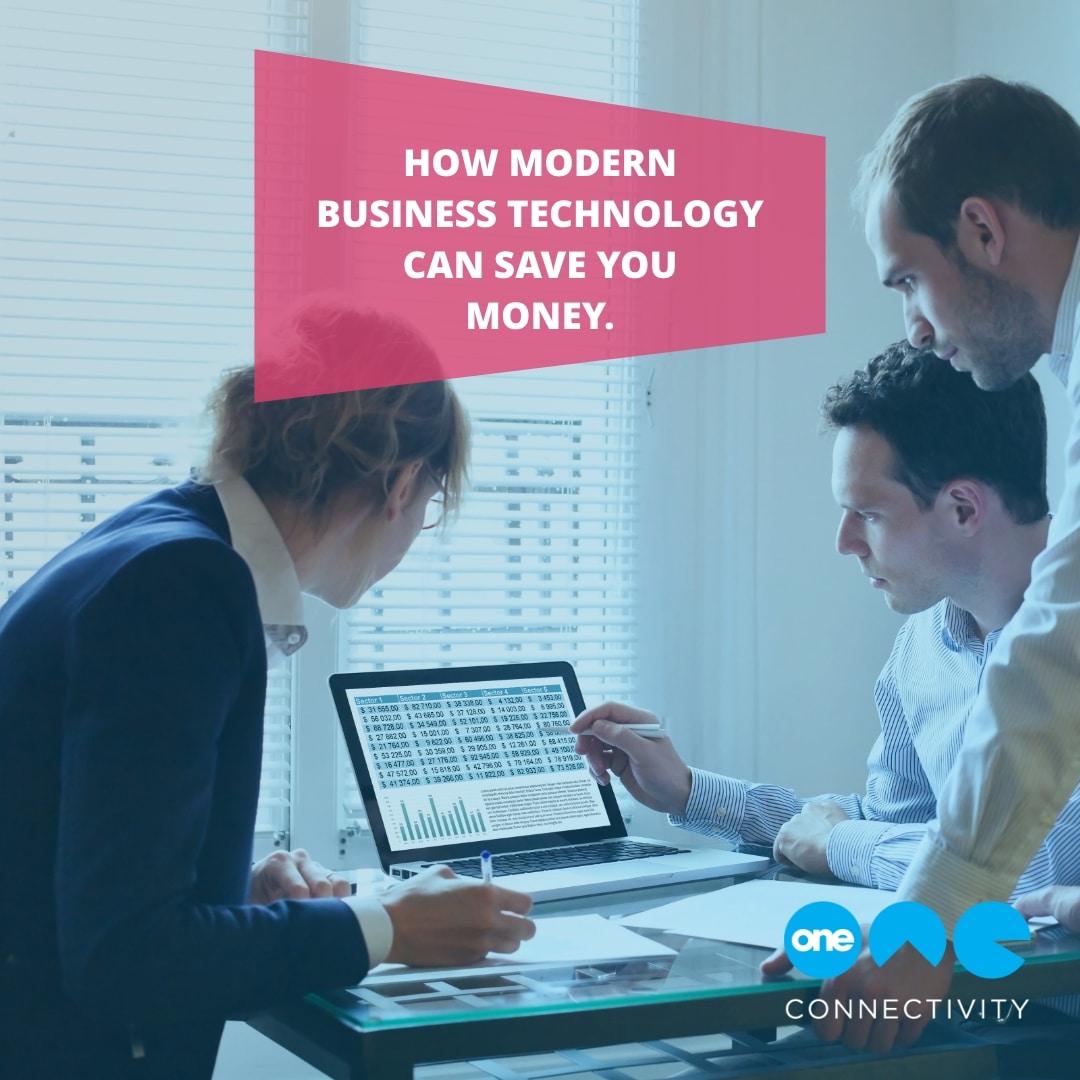 16 Sep

How modern business technology can save you money

We all like to save money. We know that adopting new business technology often doesn't feel like the best way to cut down on expenses, but there's a huge variety of services that can help you and your team to save in the short and long term.

You might think that the services you work with currently do the job well so why make the switch? This is why we've written this blog today. At One Connectivity we've worked with many businesses over the tricky past 18 months to help them adapt to the changing business environment. In this time, we've found that there are a variety of digital services that once put in place can help you to save money for years to come. Here are our favourites.

1. Cloud-based communications
Traditional business communications are on the way out. With BT announcing the switch-off of all traditional PTSN phone lines by 2025, it's down to businesses to adapt or lose out. The switch to a cloud-based model is thankfully quick, easy and inexpensive.
Instead of having to worry about high installation fees, disruption to your business and regular maintenance, the cloud makes it simple. All you need is an internet connection and a compatible device to get working. The savings from a cloud-based system come in two forms.
The first is the reduction in installation fees, as your communications are hosted in the cloud rather than on-site, there is no high initial cost for installation. The second is call rates, as calls are being handled through the internet rather than through fixed phone lines, they are far less expensive. Even international calls are simple and cost-effective.
2. Remote working
Maintaining an office is expensive. From making sure everyone is working with the latest equipment, to guaranteeing that everyone in your team always has enough space. It all adds up. Until 2020 this seemed like an essential expense, but now the rise of remote working means there's another option.
For small teams especially it can be far easier to take advantage of hot-desking and remote working in addition to maintaining a smaller office space. Technology such as the cloud communications we mentioned earlier, as well as systems such as Office365 make this possible without sacrificing the collaborative atmosphere that the office creates.
3. Take another look at energy
While this is a slight departure from business technology, we know it's an area many teams can now save money in. Businesses are very likely to be heavily overpaying on their energy. The energy market is purposefully complicated and is designed to make sure businesses are too busy to sift through to find the best deal. That's where we can help.
At One Connectivity, our experience working with service providers has allowed us to demystify the energy market. We can act as your price comparison experts, working to find the best provider in your specific area. As well as getting you the best deal we'll also handle the whole process from start to finish, from cancelling your existing contract to tendering and organising the set-up of the new one.
We'll even monitor your contract continually to make sure that it's always meeting your needs.
4. Speed up your customer service
An efficient customer service is one that keeps your clients happy. It also makes sure your staff don't have to spend hours diagnosing and solving each issue. Modern communication systems make it easier than ever to identify customers quickly and meet their requirements.
If you're working with a newer communication platform, such as iPECS ONE, you can integrate your communications with your customer database. This means that when customers call, their details will immediately appear on screen. This sounds like a small feature, but it can have a big impact on your customer service.
Instead of having to run through admin processes with your customers, you can see exactly who is calling. This means that you can greet them by name and see their individual case details instantly. Naturally this allows your team to speed up customer service, keeping your customers happier and saving you valuable time.
5. Digitise Documentation
Filing and admin is crucial for any business, but costs can add up if these processes are not managed efficiently. Thankfully, with modern communications technology, you can cut down on the paperwork and save money too.
We've already mentioned how using CRM software allows you to store customer records online. This service is cloud based, meaning that these records are kept safe, even if your office goes offline for any reason. Another way you can digitise documentation is with call recording.
A recorded call is a seamless and unobtrusive way to essentially get a digital signature from your customers. With our call recording service, you can store calls easily within the cloud to be referred back to later. These recordings can be kept on file under each customer. So your team know where to find their details, and don't need to check a complex series of files.
We believe that all of the services here can go a long way to saving your team money and to cut down on fuss. If you'd like to find out more about anything mentioned here, get in touch with One Connectivity at 0115 896 88 60.