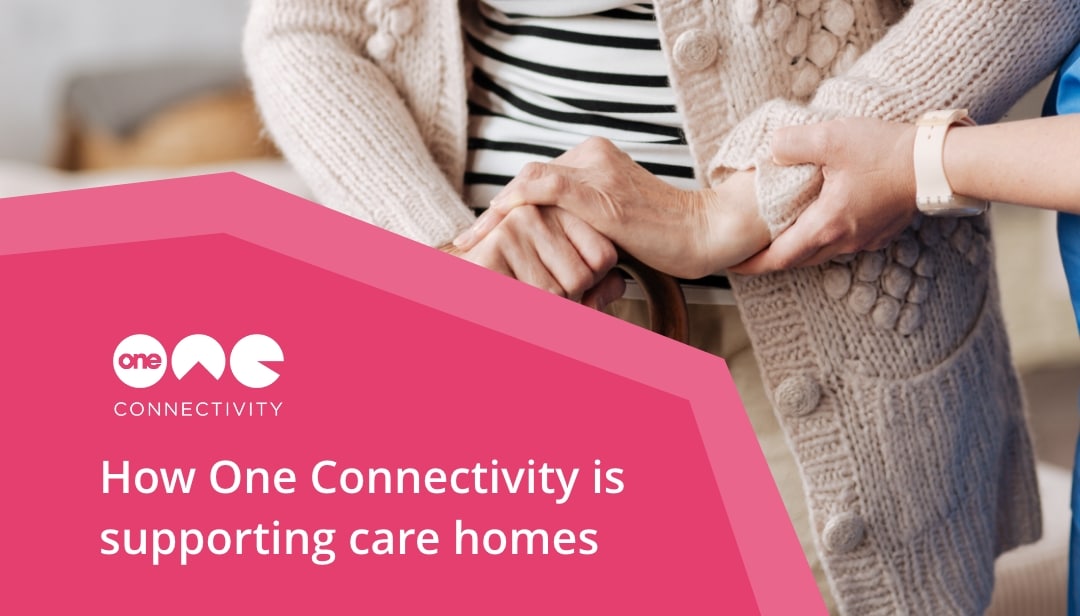 07 Apr

How One Connectivity supports care homes – Paul Stevenson
While I love all the work we do here at One Connectivity, there are some standout services that I'm really proud to say we're able to provide. The work we're able to do for care homes around the country is incredibly important to me. Over the past two years we've seen what an important service they provide to vulnerable people in the UK.
We've developed our services over the years to better cater to care homes. They often have a very unique set of requirements, and many are based in older buildings, so there are some definite challenges for the team. Thankfully the OC team are a savvy bunch, and we've received some great feedback from a number of care homes over the years. In my blog today I wanted to share some of the services we've provided to care homes and how they've made a real difference.
Helping staff to provide a tailored service
When we work with an organisation like a care home, we'll always start by identifying their pain points. For care homes we see one issue come up repeatedly. This is that calls between care homes and their residents' families and loved ones can be far more challenging than they should be. This is because without the right phone system, the team has no way of identifying callers when they answer the phone. It's way more complex than it needs to be and can be frustrating for everyone involved.
The solution we've found is CRM integration. Linking the care home's database and phone systems allows staff to handle calls much more efficiently. They can quickly refer back to the database as soon as the caller dials in, so they can respond in a much more effective way. If a loved one wants to know details about medication or anything else, you can let them know precise details in seconds. You can also refer back to existing notes made by colleagues.
Portable Handsets
Being able to make and receive calls on the move is incredibly important in a care home. While care staff are working away from their desks it's often difficult for their colleagues or for residents to get in touch with them reliably. Of course, there's emergency systems in place but we wanted to implement something more versatile.
We solved this challenge with portable DECT handsets. We'll provide these to members of staff who'll be up on their feet and spending time with residents across the entire site. Our engineers place WiFi receivers around the care home to stop connections from dropping out. I know testing out these receivers with staff is always a nervous part of any demo, especially when lifts are involved, but we've got a great track record!
More reliable WiFi
Following on from this, we've also noticed that care homes tend to have a lot of issues with their connectivity. This is due to a variety of factors. A big one is that many care homes are in older buildings. These often limit the kind of installations you can carry out, and many are even listed buildings that require even more care. Another factor is the careful budgeting that I know care homes have to constantly consider – good WiFi can often be a big investment!
We cater for this need by offering fibre connectivity that's genuinely affordable. This allows care homes to support all the services I've mentioned throughout this blog. I'm also hopeful that the roll-out of FTTP connections through our partners CityFibre and other providers will help to improve the connections available to care homes in the future.
Call recording
I know not every call goes as planned. Especially in the care industry it's natural that emotions run high. I also know how important it is to keep your team safe, and that's why we often recommend call recording for care homes. If you use our service, any user can start recording a call just at the push of a button. The caller isn't notified, which allows you to settle any of those "he-said she-said" disputes.
We also recommend call recording as a staff training tool. It's ideal for helping new hires to learn the ropes, or to guide anyone who's struggling with the call process.
Future proofing
I think any tech that we provide for care homes has to last into the future. We always try and develop a great ongoing relationship. It's great to come back to a longstanding customer and be able to suggest a new service that not only provides them with great features but keeps costs down too.
In the past couple of years, it's always been our cloud phone systems that have made this future-proofing possible. They were genuinely incredible during 2020 when care homes were put under immense pressure. They help to keep call charges down, while allowing for new features like video conferencing and messaging, which staff and residents can both make use of.
If you're interested in any of these services, please don't hesitate to get in touch with me or a member of the team at 0115 896 88 60.