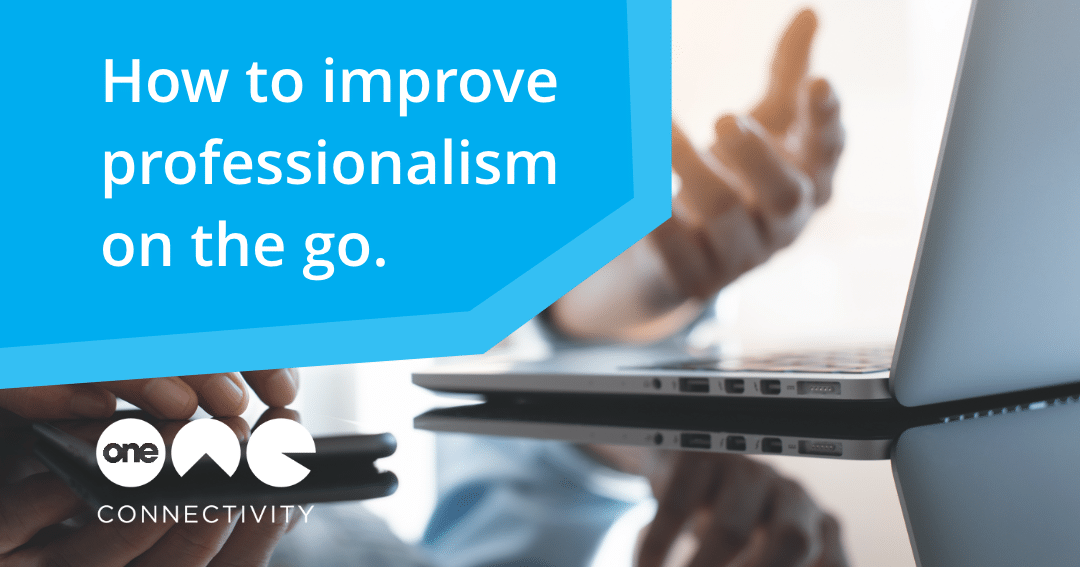 30 Sep

How to Improve Professionalism on the go

Flexibility and professionalism, two things that many businesses are looking for more of at the moment. These two things are often feel at odds with each other. During lockdown, we all heard amusing stories about people joining video calls in their underwear. But the reality is when customers are involved, we all need to prioritise putting our best foot forward, no matter where we're working.

There is technology out there, that when combined with some useful working practices can allow you to work well from any location, while still prioritising professionalism. The benefits of taking this approach are huge. For SMEs especially, it can allow you to compete with the bigger players and appear to be a larger team than you actually are. Here are our top tips for making this a reality.

Communicate in the right way, every time
When you work remotely, you should always have reliable access to a range of different forms of communication. Most businesses use a form of unified communications software that gives them access to voice calls, video conferences and instant messaging services. If you aren't currently working with one of these services, we urge you to visit this page to learn more.
Once you have access to a great communications service, the important thing to recognise is which method of contact is appropriate for each interaction. The people you'll talk to the most are likely going to be the colleagues you speak to every day, and when they're involved speed is of the essence. That's where an instant messaging service will come in handy. Voice calls when clear are ever reliable and should always be the backbone of any good customer service.
Video conferences have the potential to provide huge benefits, but only if they are used correctly. Not every interaction warrants one, but when used correctly they can massively enhance your sales and support processes. The face-to-face connection that video conferencing provides allows you to not only improve professionalism on-the-go, but also to provide a more bespoke service that your customers will love.
Make sure you're always available
Customers will generally only call a business once and if their call isn't answered they will turn elsewhere. In professional services such as property or recruitment this can mean losing out on thousands of pounds for every one of these calls. It's vital that customers are heard and looked after, even when staff are working remotely.
With a business communication system, there are simple ways to make this happen. You can set up call routing and call groups. Call routing means that if a colleague isn't working at their desk, then their calls will be routed to a device of their choice. This means customers always reach the person they need. Call groups on the other hand is better for teams, such as tech support. This service means that if the intended recipient of a customer call is unavailable, then that call will be directed to another colleague in the same group. This ensures that someone is always on the receiving end.
If you are missing calls a call analytics service can help. These platforms log every call that has come into your business, from any of your sites, and include the most useful information. This includes who called, when they called and if the call was answered. You can also see which of your teams are handling the most calls and if any members of staff are overwhelmed. This allows you to focus on the wellbeing of your staff and make meaningful improvements to your customer service moving forward.
Prioritise quality
Being able to make sure that customers can always reach you is great and adds a layer of reliability to your remote working plan. However, you also need to guarantee that the experience that they have with your team is a great one.
Audio quality is one area that needs to be prioritised. Previously, many businesses were hesitant about switching to VoIP phone systems, due to worries that the sound was not as clear as on their landlines. Thankfully that's no longer the case. Our cloud-based solutions feature crystal-clear voice quality no matter where you are working, as long as you maintain a reasonably consistent internet connection.
When customers call your business they expect an outstanding service, and one that is tailored to their needs. You can make this a reality with CRM integration. This service applies data from your customer management software to your communications system and allows you to better tailor your service to each customer. It means that if you spot a VIP customer in the queue, you can move them forward. Additionally, it means that as soon as you join a customer call, their details are displayed. This allows you to greet them by name and more quickly understand their issue.
We hope that this blog has given you some ideas on how you can prioritise professionalism while working remotely. For more information, speak to our team at 0115 896 88 60.