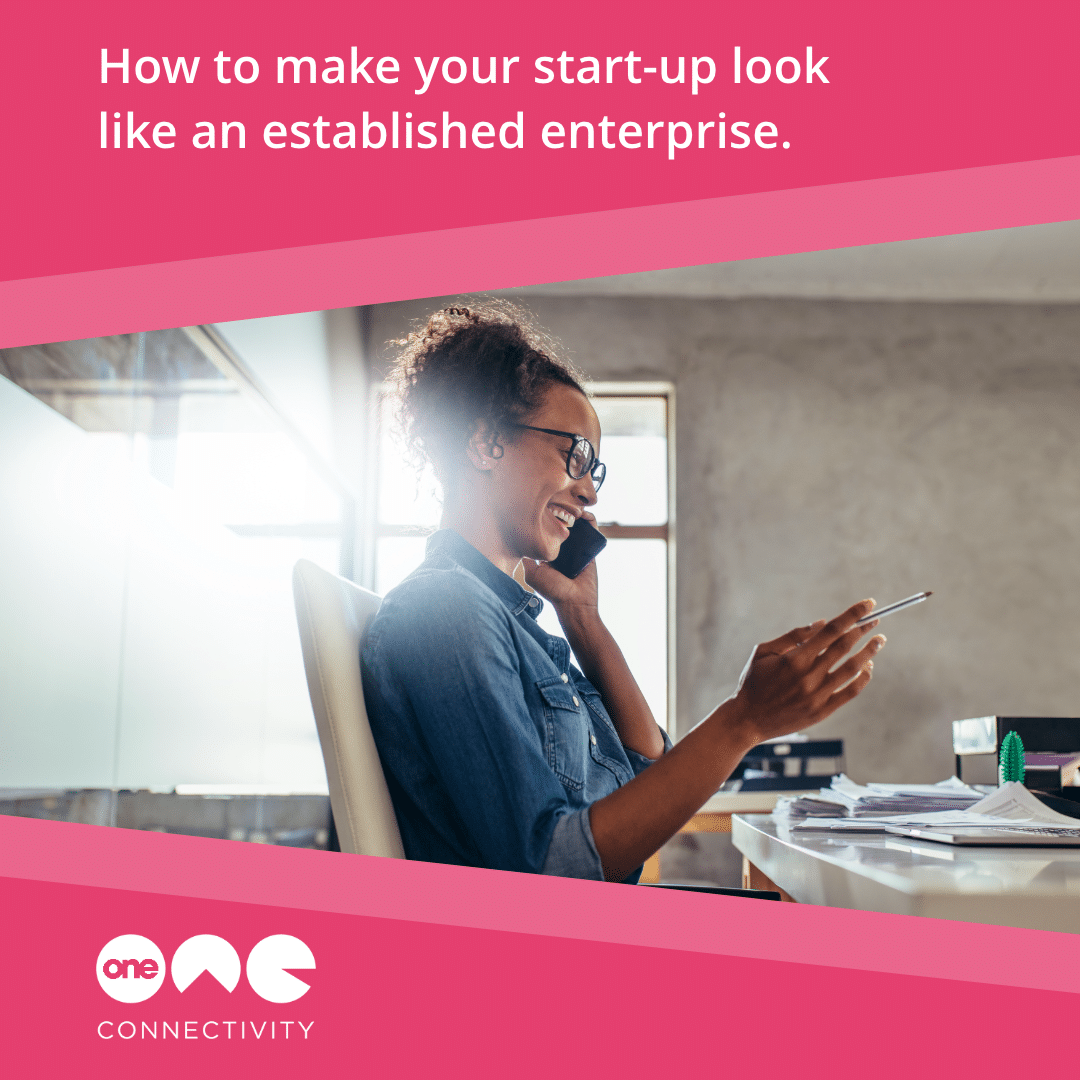 21 Oct

How to make your start-up look like an established enterprise

It's a great time to start a new business. In the wake of Covid, new innovators are stepping into the market where many older businesses were left behind. There's no shortage of ambitious people looking to make their way in the business world, and at One Connectivity we want to help them.

We know that many industries are incredibly crowded right now. Whether you're in hospitality, manufacturing, professional services or any other sector, the chances are there are other businesses on your turf, many of which are probably larger than your own. This isn't necessarily a bad thing, small businesses can dedicate more time to individual customers, and are known for providing a quality bespoke service. However, to truly stand out you need to combine your customer service with a great layer of professionalism.

Here are our top tips for making your start up look like an already established enterprise.

Prioritise quality in your communications
As a small business you always need to put your best foot forward. If potential customers even get the suggestion that your organisation is winging it, then they are far more likely to turn elsewhere. That's why you need to nail down a professional communications process.
When customers dial in, they expect to be met with consistent audio quality on the other end. This is where our cloud communications services shine. We work with the UK's leading technology providers to ensure that each business has a phone system that genuinely suits their needs. For start-ups this means cloud communications, these services are ideal for smaller spaces as they do not require any servers or expensive hardware. They are accessed on a flat monthly fee and can be plugged-in anywhere with an internet connection.
That last point is particularly crucial for professionalism. Being able to access a premium business communication service from any location can massively improve your business' image. No matter where you're working, as long as there's an internet connection, you can communicate clearly with your customers.
Keep customers informed, even if you can't make their call
Generally, potential customers will call a business once and if they don't answer then they'll seek an alternative. Similarly, customers will only wait on-hold for about 45 seconds unless they really have to. As a small business, we know that the reality is that some customers will have to wait on-hold and others won't be answered. What separates you from larger enterprises is how you respond.
For customers waiting in the queue, our on-hold marketing service makes their wait a far more pleasant one. Instead of strange music that has nothing to you with your business, you can choose from a range of professionally recorded options, with hundreds of tracks available. Professional voice actors can include custom messages containing your most useful FAQs such as opening times, Covid measures, or if you have any exciting new products or events coming up.
Our call analytics service helps you manage the entire process. If you notice a VIP customer has been waiting a while, bump them up the queue! Or if a call has been missed, your team can spot it quickly and make a prompt follow-up.
Develop your service where competitors can't
If you can't beat larger enterprises in terms of sheer numbers, beat them by offering a higher quality service. Smaller teams can get to know their customers better, and tailor a service to their unique needs. Our communication services can help here too.
Our phone systems integrate alongside over 60 major customer relationship management platforms. They can then draw from the data stored in these platforms every time a customer calls in. This means that your staff can greet them by name, and quickly understand what services they currently have with you, allowing them to provide the best response.
One other way you can develop your service is by making it more accessible. Our newest communications service, iPECS ONE, is powered by a protocol named WebRTC. This confusing collection of acronyms basically allows you to host and join video calls from your web browser, instead of via an app that you have to install. This means that audiences who previously wouldn't have been able to get in touch with you this way because they couldn't access the video conferencing app, or weren't tech savvy enough to install it, now can with ease.
Your business can host webinars, sales pitches or any other form of video call, directly through a simple browser. Just send an invite via an email, and they can click and join the call straight away.
If you'd like to find out more about any of the services mentioned here, or would just like to speak to a communications expert who can talk you through the latest available phone systems get in touch with our team. We'll be happy to walk you through, you can reach us at 0115 896 88 60.