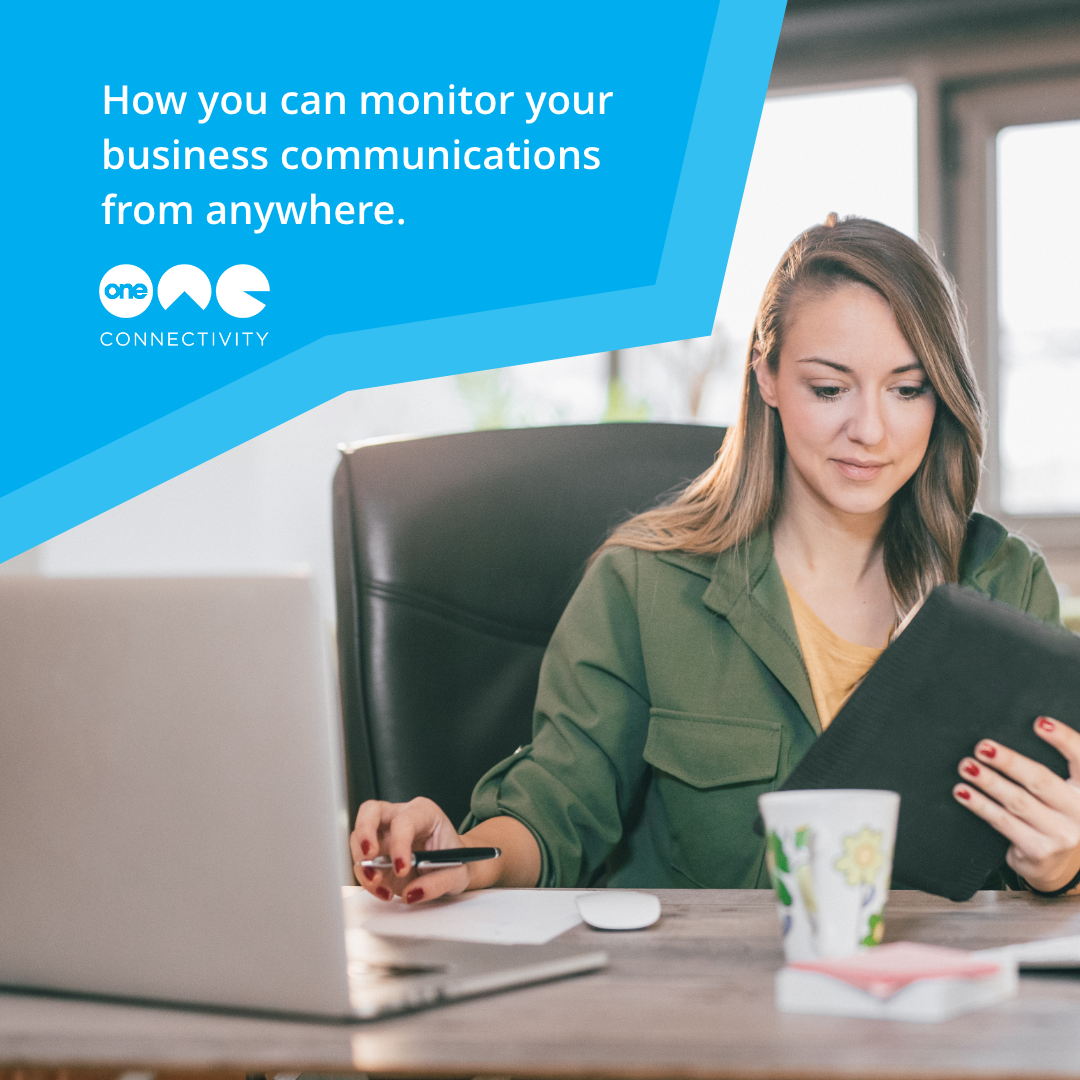 04 Nov

How you can monitor your business communications from anywhere

Peace of mind can be hard to come by when you're running your own business. Whether you're in the office or working remotely, being able to keep an eye on how things are going can be incredibly valuable. If you have a clear understanding of staff performance and how your customer service processes are operating, then you can rest that bit more easily and make the right decisions moving forward.

At One Connectivity, we're in the business of helping teams to communicate better. That's why we're excited by the recent launch of a variety of new call analytics and management services. We believe that these platforms, when used correctly, can allow you to manage your business's customer service and collaboration effectively from any environment. We'll explain how.

Ensure a quality service:
This is the first and foremost use of a call analytics solution. Being able to maintain great customer service, even when staff are working remotely, can help set your business apart from the competition. Offering staff the option of remote or hybrid working allows you to hire some of the top talent, with many home workers achieving better productivity and morale.
Using an analytics solution is essential to ensuring that these members of staff are always performing to a high standard. Our monitoring service allows you to unobtrusively join calls as they are happening, or use a whisper function to help advise staff in real time. We know that when working remotely, you won't always have the time to monitor staff as calls are happening. This is where call recording services come into play.
Call recording:
We can seamlessly record each inbound and outbound call made handled by your team. These calls are then stored in a cloud database that is compliant with GDPR laws. Recorded calls provide new insights into your business, and with our service, they can be accessed remotely from a device of your choice.
Once you've accessed call recordings you can take a variety of actions:
If you need to make sure that a particular agent, maybe a new hire, is working at their best, you can filter calls by agent to gain a clear understanding of their performance.
You can filter calls by department, such as support. If you notice that a large number of support calls have been made regarding a particular product or service, then maybe more information needs to be added to your website.
You can use call sampling to provide a snapshot of your customer service as a whole, in order to guarantee that your company is always providing a great experience.
If there is a dispute between staff and customer, you can search for the recording of this interaction and settle any issues according to the real evidence.
If one of your agents is performing particularly well, a recording of one of their calls can be used to train any new recruits.
Make informed changes moving forwards:
When working away from your business, it is easy for processes to become set in stone, even if they aren't the most efficient. Being able to stay informed with a call management service allows you to make real improvements to your network.
While you can monitor calls in real time, a huge amount of value can also be gained from regularly scheduled call reports. These reports are customised with the metrics that matter most to your business and are presented in easily digestible graphs and charts. From here you can get a complete picture of how your business is operating.
For example, you might see in a report that staff are inundated with calls at a particular time of day. From here you can assign more staff to the phones, or even set up a call route to another site that is less busy. This feature also allows you to see if any individual members of staff are at risk of being overwhelmed, so you can better assign resources to support them.
Monitoring call statistics can also reveal helpful insights about other areas of your business. If you've recently launched a new marketing campaign, you can measure its success based on the number of enquiries that you get afterwards. Call reports also include records of exactly who dialled into your business by matching their contact details to data within your CRM. This not only helps you provide a more bespoke service to these customers, but can also inform new marketing campaigns in future.
To find out more about One Connectivity's call analytics service, visit our website. If you'd like to know how this service can help your business, feel free to get in touch. You can reach our team at 0115 896 88 60.