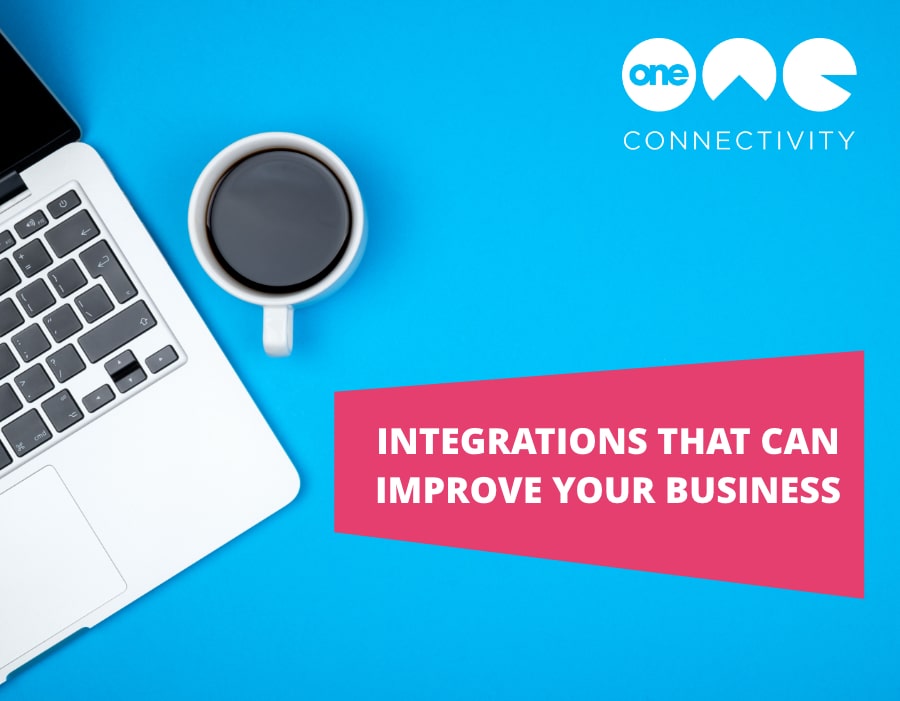 09 Sep

Integrations that can improve your business

Technology is more than just hardware and software. The tools we use to work also need to work alongside each other to create a worthwhile experience. From our communications software to the devices we use to stay productive, if everything can work together then customer service and collaboration both stand to improve. That's why this week's blog is all about integrations.

Tech providers know that we use a huge range of services every day. Sometimes the services we use will all come from one provider, making things simple. But more often than not, we use a range of different services from a range of different businesses. That's when useful integrations are handy. Most good providers recognise the need for their services to play nicely with others to benefit the end user.

You might not know about some of the integrations that are available to you right now though. They often aren't heavily advertised. We've created this blog to help demonstrate the integrations that are available today and how they can help your business.

CRM Integration: Making customer service more efficient
Most businesses use some form of Customer Management System (CRM). Even teams in the public sector such as in education or healthcare use database software to store the student or patient data. This data is incredibly valuable for effective communication, so being able to access it quickly has to be a priority.
Modern communication platforms such as iPECS ONE integrates with over 60 CRM services. This integration means that when a known customer dials into your business, their CRM details will appear on-screen for the member of staff who answers them. This means that your customer service staff can greet callers by name and help solve their queries much more quickly.
CRM integration also greatly helps when making calls. Searching for customer contact details can often be a chore, but when your CRM is integrated with your communications platform, their contact details are stored conveniently withing your phone system, making finding and getting in touch with contacts simple, even when working remotely.
Productivity and Scheduling services: Stay in touch with your team
We know how challenging it can be to maintain great team spirit and collaboration while working remotely. Whether you've found it challenging to arrange team meetings, or struggle to keep members of your team updated on urgent tasks, there needs to be a reliable way to keep everyone on the same page.
This usually comes in the form of productivity and scheduling software. Many businesses use services specialised to their industry, but more businesses use well-known services like Outlook and Office365. These tools can also be integrated alongside your communication system with great results.
Once you've integrated your communications with a calendar service like Outlook, it will display within your communication service when any of your team members are busy on a call, or if they have accepted an invitation to a meeting that you've invited them to. You can also accept invitations to meetings directly through your email. This all has the effect of reducing the confusion that can come when working remotely, and keeps your team fully in the loop, no matter the device they use for work.
Cloud communication services also allow you to collaborate on documents with your team in real time across a whole range of apps, through Office365.
SMS and Mobile App integration: Take your work on the go
Working at your best on the go is now essential for nearly every team. Whether you're adopting a full flexible working model, or just sending a message during your commute. Being able to bring your mobile devices into your business communication network is a great way to work more professionally on the move.
A Unified Communications service does this, whether you use a service like MS Teams, or a newer platform like iPECS ONE, these services feature Mobile Apps that mean you no longer must rely on consumer grade messaging apps. Consumer grade services are useful but lack the professionalism of a solution purposely designed for business.
With a UC mobile app, all of your contacts are already built in, meaning no mad search for the right number. Messages are all stored securely on the cloud too, so if you ever need to refer back to an interaction, you can do it with ease. This greatly improves collaboration in a hurry, and is ideal for staff in support roles, or those who work in high stakes industries like property.
There are dozens of pieces of software that can integrate alongside modern communication services. From industry specific technology to well-known services like Salesforce. Whether you're working back in the office or remotely, we hope that the services mentioned here can help you. For more information get in touch with One Connectivity at 0115 896 88 60.