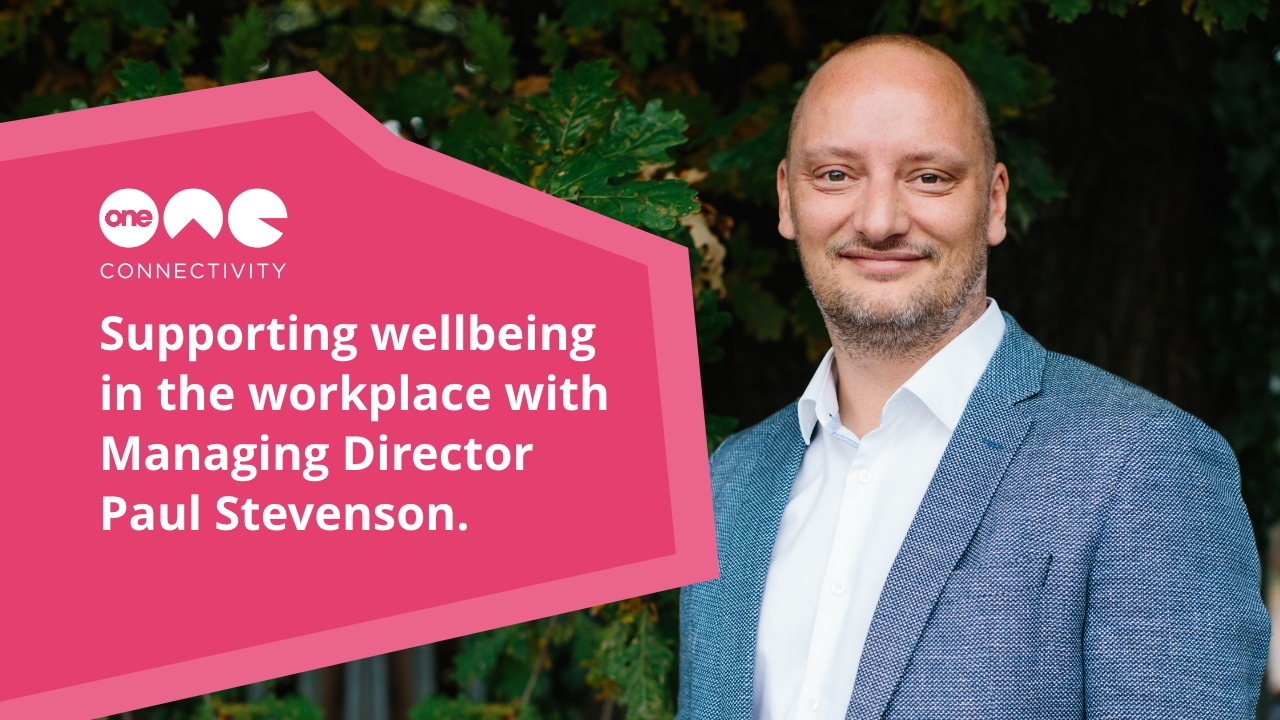 29 Apr

Supporting wellbeing in the workplace

At One Connectivity our aim has always been to help businesses communicate better with their teams and customers. Recently though, the rise of remote work has led to staff at all levels of business feeling isolated. As Managing Director here at One Connectivity, I know that team wellbeing has become a trickier subject. We want to keep our teams happy and informed, as ultimately that's how all great businesses thrive.

I believe this is so important that having a clear structure for maintaining wellbeing should be a priority for businesses. With this in mind, I wanted to share our advice from One Connectivity for managing your team's wellbeing.

1. Never neglect face to face
Messaging and emails are great when you can't reach the phone, but they shouldn't be relied on as your main channel of communication. The convenience can make a huge difference to your business, as does the availability of these services, but they do lack a personal touch.
Video conferences allow you to maintain a face-to-face connection with your team and customers. In my view there's a lot more room to offer personal support with this medium. It's more of a real conversation. People are much more likely to offer a genuine opinion and group calls allow teams to get to know each other better than they otherwise would.
2. Remain available for calls
Customers will always appreciate a phone call. There's a reason why it has stayed the most popular form of communication despite the other options available. There's a huge amount that can get lost in translation over text or email. In all the high stakes industries we've worked with at OC, I know that leaving room for interpretation sometimes just isn't an option.
Customers and staff knowing you're only a call away can massively improve their perception of your business, so approachability is key. I'm not saying that anyone should be handling calls at all hours, but when implementing any kind of flexible working plan, it's important to maintain the professionalism that your brand is known for.
It's important to mention the quality of these calls too! Being able to use your business number while working remotely is an underrated but really valuable feature.
3. Be available to talk
Over the pandemic I know a lot of us got very video conference fatigued. Especially in 2020 it really did just feel like we all went from video call to video call. People's mental health was negatively impacted by it. I think a big part of the reason for this was how common ad-hoc calls were. Even though we were at home, we always had to be ready to chat!
I think there's an easy way to remove a lot of that stress, it just means getting organised. Making an effort to properly plan in regular meetings with your team keeps them informed without causing unnecessary stress. If you have remote staff, just make sure to check in on them on a weekly or even daily basis.
There's some great software out there that can help you to maintain these schedules. You can integrate Outlook with your phone system to help manage your call schedule and better synchronise your calendar with your team. You can also use this to see if people are likely to be getting overwhelmed with calls, and make appropriate changes moving forward.
4. Tech can enhance culture
One of the things I think we miss when out of the office is spontaneous conversations with colleagues. Some genuinely great ideas and innovations have come out of this 'water cooler chat' at One Connectivity.
I think it's important to use tech to communicate in ways outside of the usual productive working context, it's a great way to maintain a good company culture. It can be something as simple as saying happy birthday on a Teams chat. Instant messaging is great for this kind of casual chat, and people can dip in and out when they want.
5. Get the right tools
I think all these changes have to come from the top down. As managers, we need to put the tools and systems in place to make sure that employee wellbeing is something that we're constantly driving forward. It's great that there's more awareness about mental health now, but improving wellbeing at any business needs to be a continuous effort. It's not just something we talk about for a couple of days a year.
I think this starts with following these 5 tips. When you have staff working from home, you need to ensure that they've got the support channels in place to get help when they need it.
Although it feels slightly odd to say as a technology provider, the tech isn't the most important thing here. It's all about showing empathy and recognising the needs of your team, even when they aren't in the same office as you. The tech can and should support this – it's all about how you use it. If you want to find out more, get in touch with One Connectivity at 0115 896 88 60[/vc_column_text][/vc_column][/vc_row]