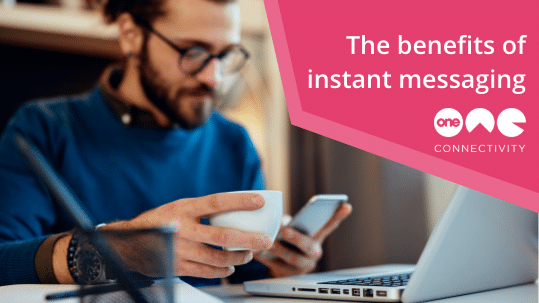 20 Jan

The benefits of instant messaging for business

As technology advances, more and more businesses are turning to unified communications (UC). In essence, UC gathers all business comms – voice call, video conferencing and more – and unites them in a single platform.

This means your team can communicate internally and externally across multiple channels from a single platform. Once you start integrating this with other business tools, it makes collaboration and communication easy – even if your team works remotely or on multiple sites.

There are so many benefits to this, but we couldn't help feeling that one feature is under-discussed: instant messaging. So we've written this blog to rectify that, and highlight some of the ways you can use instant messaging (IM) to enhance the way you do business.

1. It's instant!
Let's start with the obvious. Sometimes, calls and emails are too lengthy. If you just need to double-check something small, instant messaging is the perfect medium. Instant messaging tends to be brief and focussed. There are times when that's all we need.
2. Knowing who's available
This is a big one. When you send someone an email, you're a little in the dark. You don't know whether they've read or even noticed it, and you're essentially at the mercy of their inbox management skills – which, to put it mildly, are a little lacking in some people!
Instant messaging through a UC platform does away with that. Every user has a 'presence' setting, which basically means you can see whether they're available or not. And when you send it, you can see whether or not they've read it. As well as giving you reassurance, this adds efficiency by saving on chasers and follow-ups.
3. Sending important information
This leads to our next point. If you've got something important to send to your team, it really helps if you know they've read it. It may be a new company policy or one of any number of important announcements. Using a UC platform means you have a record of who's read it and who hasn't. This can also be referred back to at any time using UC's global search function, just search for the contents of a message and you can see exactly who has received it.
4. Team building
In the office, if you need a quick word with someone you can wander over to their desk for a brief chat. It's good for efficiently exchanging information. But also, as small as it may seem, the social aspect is important for maintaining team morale and togetherness.
For remote workers, IM is the digital equivalent of that chat. Socially, it's the small detail that allows remote workers to feel like part of the team. But it also allows them to be just as connected and productive as anyone working from the office.
5. Better record keeping and security than text
Of course, your team can use any old personal mobile messaging service to talk business, whether it's SMS or WhatsApp. But this can lead to problems. Is it appropriate to discuss customer details on personal devices? Can anyone who needs the information access it?
We're willing to bet that the answer is no, however convenient texting may be. Instant messaging on a UC platform is just as convenient, but much better practice when it comes to record keeping, security and data protection.
6. Group communication
Group chat over email can become very hard to follow. As email chains grow, it becomes harder to find information and keep up to speed. Instant messaging eliminates that problem. You can easily set up groups for departments or projects, and then it looks just like a thread of text messages.
It should also be searchable, and will allow you to attach and comment on files. This means you've got the functionality of email, but without the tendency for important things to get buried.
You can also escalate any group chat to a call or video conference at the push of a button.
Are there any downsides?
Hopefully we've spelt out the upsides of IM for business – used smartly, it can make your organisation more dynamic, productive and cohesive. But of course, it isn't right for every single scenario. We're big believers in unified communications, so naturally that means every communication method has its place.
One thing we'd recommend is giving your team guidance on best practice and etiquette when it comes to IM. It doesn't have to be very formal, but you can ask them to keep non-work chat to a minimum and avoid spamming each other. IM works best for short-form, focused chat. If you and your team use it with that in mind, you'll be much closer to realising all these benefits.
What can One Connectivity do?
We're experts in unified communications. We've got years of experience in helping businesses of all sizes get the most out of their comms. Whether it's cloud-based or on-premise, we can tailor what we offer to your needs.
As well as expertise, we believe passionately in honesty. We're not going to upsell for the sake of it – what we want to do above all else is to meet your needs and budget. There's nothing quite like expertise you can trust. And we'll use our knowledge to help you get the most out of your communications platform, whether it's instant messaging, integrations or anything else.
There's a suitable platform for every business, whether you've got a few employees or thousands. Our goal is to use our knowledge to help you find your platform, and make sure you see all these benefits for your business.
If you've got any questions at all, please do get in touch. You can call us on 0115 896 88 60.