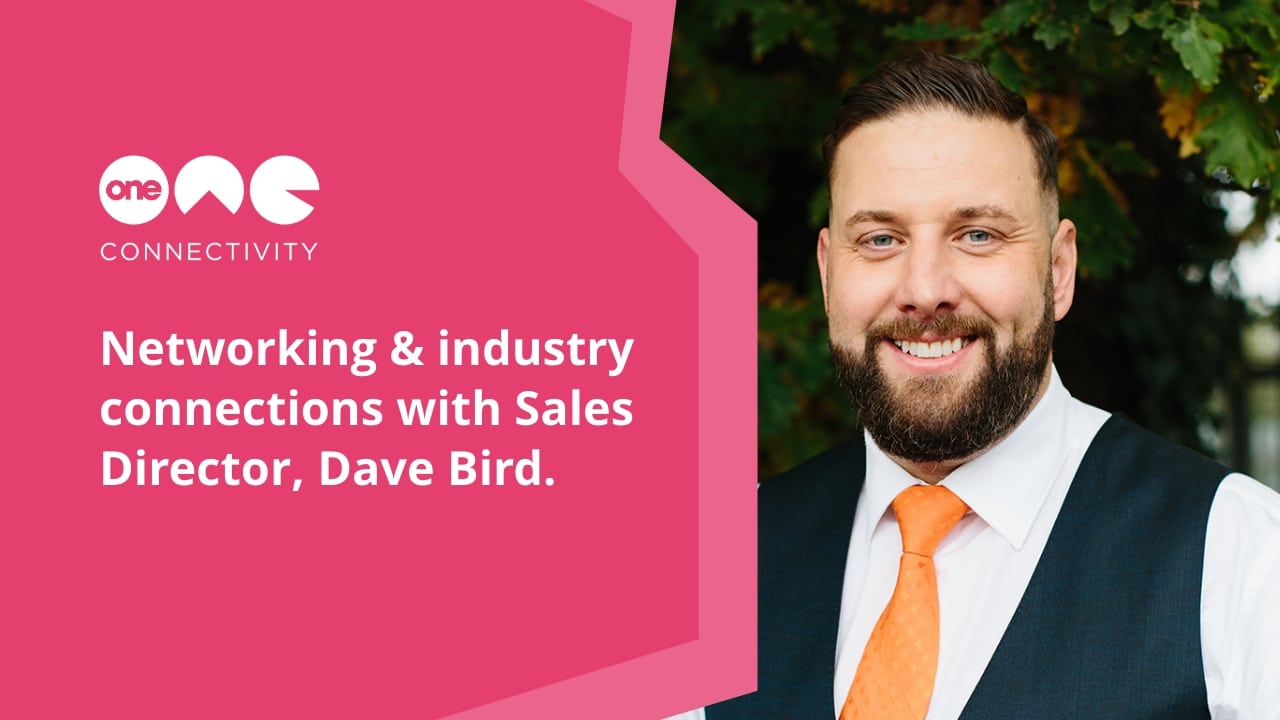 26 May

The importance of Networking and Industry Connections

Connection is what we're all about here at OC. We connect businesses with their customers and teams to each other. We naturally use some great products and services to do this, but what really matters are the people behind them. You can have the flashiest phone system in the world, but if you can't hold a conversation, you're not going to get too far.

In my view there's always room for a face-to-face connection with your customers. Maintaining that relationship helps you to get more insights, and understand customers on a deeper level. I know this sounds like sales 101, but my point is that these are good practices to maintain in every part of your working life, which is what I'm writing about today.

What is networking?
I think networking is sometimes a bit of a dirty word. People generally associate it with looking for a new job. But networking is something I think we should all be doing more of in our daily lives.
In essence it's just meeting new people. What sets apart networking and just having a chat with a stranger is intention. Networking is all about connecting with the goal of furthering a business relationship. It's normally a fairly casual experience and shouldn't be limited by your role or your industry. Networking helps you to exchange ideas, meet new people and gain confidence that you can use everyday. You should challenge yourself as well, if you see a celebrity on a night out, talk to them! I know I do!
How can networking support your business?
While it's great for your own personal gain, networking can also support your business. My favourite part about intending industry events isn't the free bar, it's exchanging ideas. You can learn a huge amount just by talking to people working in the same industry as yourself.
There are so many situations where we've found a solution just by talking with someone who has an outside perspective. I know a lot of us in the communications sector face the same challenges, so speaking with industry connections really does help us to solve problems faster. It's why events like Pragma's recent 2022 Conference are always highlights on our calendars.
I think it's also a great way to help junior staff to progress. I know it sound like you're throwing people in at the deep end, but getting new staff involved with events and a wider network quickly helps them to learn the ropes and boosts their own confidence.
How to network better
Over the years I think I've picked up some useful skills for putting yourself out there and getting insights that have really helped us here at OC. These are my top 5 tips for better networking:
1. Don't focus everything on selling
It can be really tempting to bring your pitch and try to sell at business and networking events. Sometimes this will work well, but I think you can end up losing out on a lot of benefits – it should be all about the connection. Your goal should always be to learn and get creative.
My advice is to keep it informal and go in with the mindset of solving problems collaboratively, if a new lead or two arises from that, amazing! But it shouldn't be your number one aim.
2. Build long-term relationships
A lot of us have been there, you go to an event, have a great time and meet loads of people, but then never speak to many of them ever again. Networking isn't just about events, you've got to maintain the relationship like you would a customer.
I recommend using services like LinkedIn to reach out and stay in touch. The insights that you can gain from a long-lasting relationship are even more valuable. Besides, you never know when people are going to come in handy.
3. Step out your comfort zone
This is a really key one. Meeting people requires confidence, whether this is face to face or online. I know that personally I don't tend to struggle with meeting new people at events or in social settings. In 2020 when we started attending more webinars, it was a pretty big change!
I think it's really important not to limit your networking to just in the environments you're comfortable with. Getting out there allows you to learn more about new industries and meet people you'd otherwise have nothing to do with!
4. Don't lose focus
When I'm at networking event I like to come equipped with a few different problems that I'd like to have solved by the end of it. Not only is it a conversation starter, but I find that it's a really good way of staying on track.
If people come away from meeting you knowing exactly what your business does, and where you can help each other, then that could be the start of a really valuable relationship. It's better than just thinking "yeah he's a sound bloke" and then never thinking about you again!
5. Be yourself
Ok, massively cheesy I know. This does link back to my first point though, nobody wants to go to a business-casual informal event and be bombarded with sales pitches. Ultimately, going to events and meeting new people should be an enjoyable experience, so no matter your goals, enjoy yourself.
I hope this blog has helped you to get that little bit more motivated about your next event.