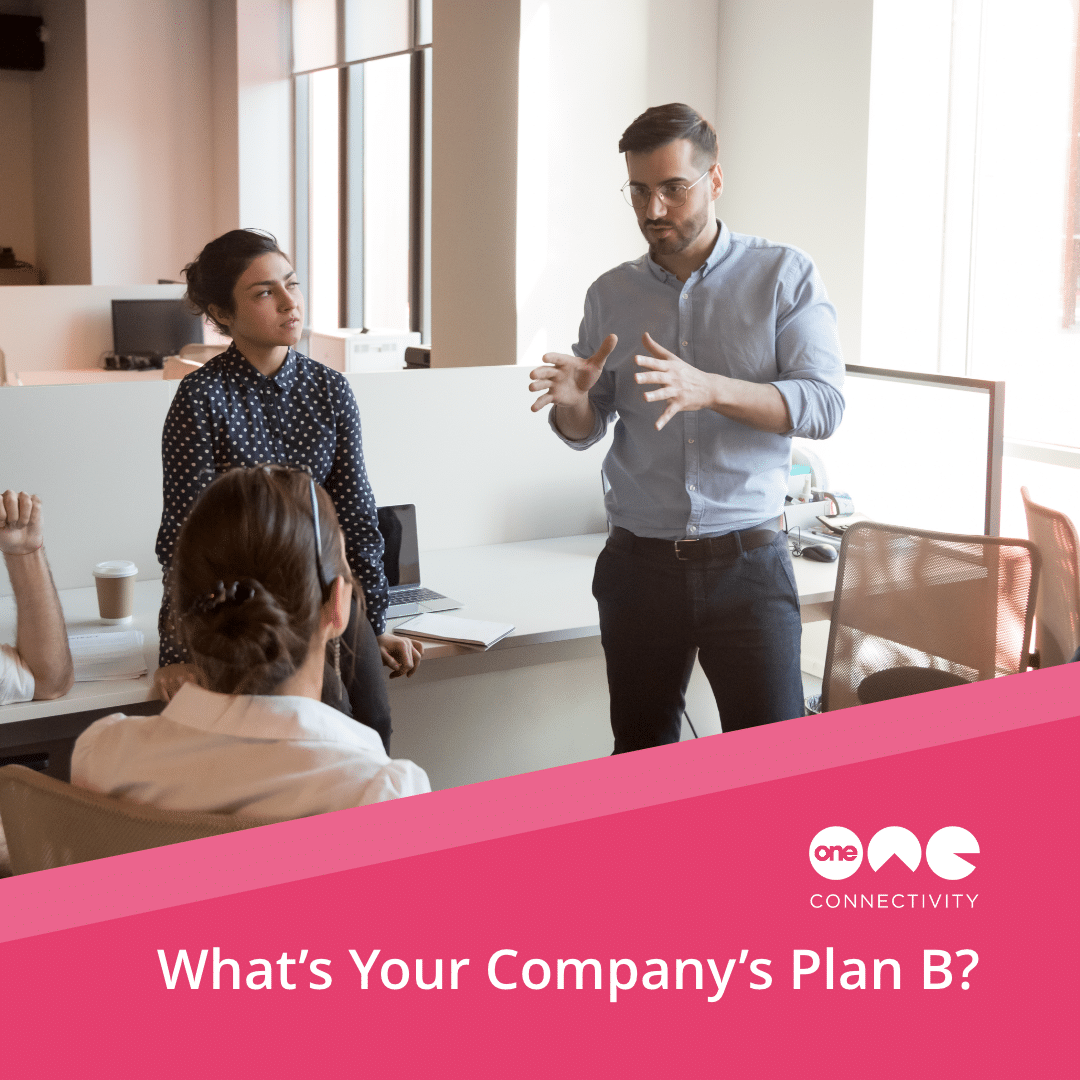 11 Nov

What's Your Company's Plan B?

Since COVID-19 restrictions first eased in England, more and more of us are returning to the workplace. But if the last couple of years have taught us one thing, it's that we can't afford to be complacent. The Government's Plan A involves few restrictions. But cases are rising rapidly, and the Health Secretary has not ruled out the possibility of Plan B for the winter.

A recent BBC article points out the growing number of health experts recommending new measures to avoid a winter crisis. These could include working from home, and restrictions on travel. Whatever happens, we should all be ready to adapt at short notice. Does your business have a Plan B? At One Connectivity, we can make sure your Plan B is as easily executed as your Plan A. This means that if new restrictions are introduced suddenly, you can switch seamlessly between in-person, hybrid and remote working.

Here are some important things to consider …

Is your home connectivity good enough?
At the office, everyone uses the office WiFi. Working from home is another matter, and home broadband can vary significantly in speed. It's vital to make sure you and your team have the bandwidth and speed you need to keep things running smoothly.
At One Connectivity, we can help get your team up to speed. Not only are we experts on WiFi, but we also offer a range of 5G business mobile devices – which means your team can stop worrying about unreliable home broadband and enjoy some of the fastest speeds available. Even if you don't have 5G coverage in your area yet, 4G can still be a great solution. We can offer unlimited data, ensuring that you and your team stay connected come what may.
Do you know what your team is doing?
Remote working can be just as productive as working in the office, if not more so. But some areas of business can lag without good management. A strong call analytics system helps avoid any dips in performance or productivity if you suddenly have to shift to remote or hybrid working.
It should allow you to monitor KPIs in real time, with all the detail you need on an individual, department-level or company-wide basis. Best of all, by using the cloud you can access it any time, anywhere. That way you can identify any productivity issues instantly, and support your team in the transition to other ways of working. We at One Connectivity can offer all this and more, with analytics solutions for businesses of all sizes.
Do you have the right devices?
Wherever you're working, it's essential that customers and clients have a great experience whenever they interact with you. But if they suddenly need to work from home, your team may not be reachable on the usual business numbers.
Business mobiles can be a great solution. You can take the stress out of remote working, by ensuring your team has everything they need to be contactable away from the office. Integrate the devices with your business phone system, redirecting office calls to the mobile device. You can even call from the company number using your business mobile device, guaranteeing a consistently professional appearance wherever you work.
Are your devices up to date?
It's great to have the right devices, but it's just as important that they're secure and up to date. This is doubly true if we're working from home with our own devices, and it's not so easy to sort problems out in person.
All businesses process personal information, whether it's customer and employee details or any more sector-specific data you may handle. It's essential to have the right security protocols in place, especially if we're working away from the office. Do you regularly update passwords? Do you and your team have anti-virus software on your work computers? Are your communications secure and encrypted? With a bit of planning and the right tools, it's possible to keep standards as high at home as well as in the office.
Cloud communications
More and more of what we do is on the cloud. These days, it's increasingly common to process payments, invoices and more using cloud-based systems. But what about communication? With the right system, you can manage all your communications over the cloud.
This allows your team to sign in and keep in touch on any device, wherever they are. With more people looking to work remotely, COVID-19 only accelerated an existing trend. Cloud communication enables you to switch seamlessly between in-person, hybrid and remote working. With the right tools, you can be ready for whatever this winter throws at us.
Staying in touch
Much of our in-person workplace communication happens informally. It may be casual, but it's important – double-checking details, impromptu meetings, and all the little discussions that keep our businesses ticking over.
If you use unified communications (UC), you can keep that going wherever you are. UC allows everything from instant messaging and real-time collaboration to video conferencing. Best of all, it's all done using a single service, accessible from anywhere. This means you can switch seamlessly between home and the office without losing touch. We work with Ericsson-LG, whose iPECS range of communications products are among the market leaders.
How we can help
Here at One Connectivity, we've got years of experience in business communications. We've all had to learn to adapt in the last couple of years, and we don't know what's coming in winter. We all need a Plan B, and with our expertise, you can be ready for anything at a moment's notice.
Whether it's business communications, devices, connectivity or security, we can help keep you connected and in control wherever you are, whatever happens.
If you want to find out more, get in touch with One Connectivity at 0115 896 88 60