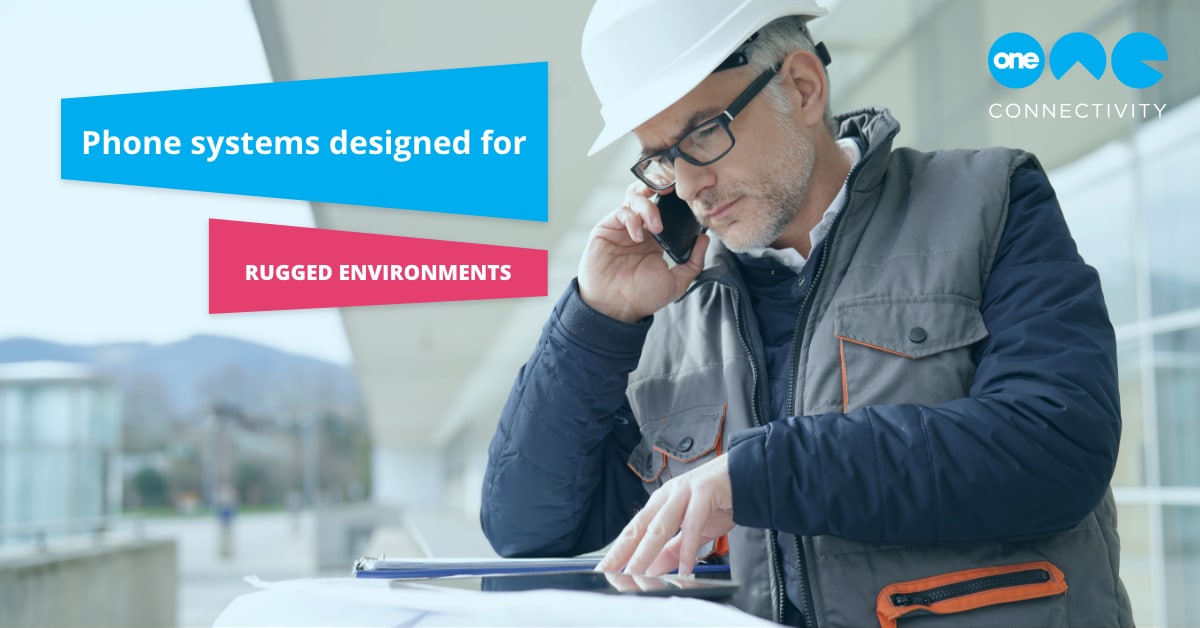 06 May

Phone Systems for Rugged Environments

Tough environments require equally tough communications solutions. That doesn't mean there's no room for innovation, though.

Our cloud phone systems are ideal for businesses with particularly demanding working environments. Firstly, they eliminate the need for a complex and bulky server to be hosted somewhere on your premises. Secondly, the use of VoIP represents an enormous reduction in call costs. Lastly, cloud services provide a number of features and benefits that older on-site systems simply cannot match.

If you work in a large, noisy, dirty or even dangerous environment, reliability and toughness are key. In this blog post we will explore why VoIP and the cloud may be the best upgrade for your business.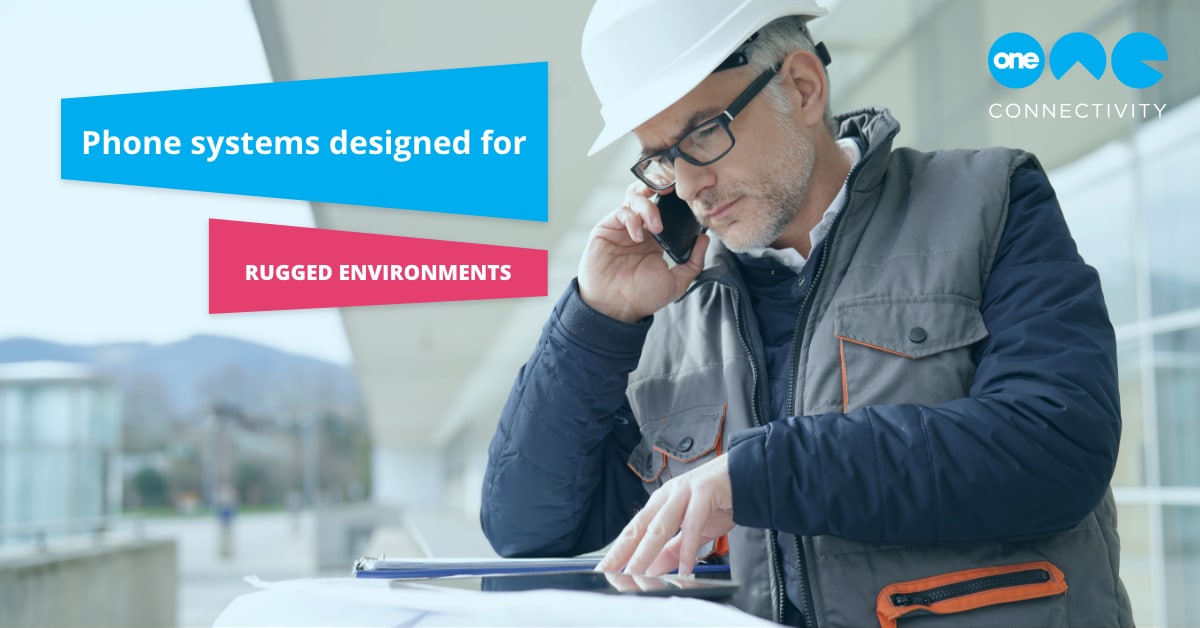 Large premises
One thing most tough environments have in common is that they are large. This has traditionally meant that your phone system can only really be used from within your office.
Modern DECT solutions like ours can resolve this. Using our extensive experience with network design, we can set up a series of signal repeaters to ensure your cordless handsets can connect to their base stations from anywhere on your site. Not only does this save you a huge amount of time, but it also provides an enormous improvement to site safety.
Ensuring you can stay connected from even the furthest corner of your site helps to prevent emergencies and respond even faster if the worst were to happen. You'll be amazed how quickly a cordless handset becomes an essential part of every team member's tool kit.
Noisy and dirty environments
Keeping your handset connected is one thing, but what about keeping it charged? Battery life on cordless handsets has been notoriously patchy in the past. Times have changed. All of our handsets provide more than enough battery life to last even the longest of shifts. And with advanced noise reduction, bluetooth headset support and HD audio, you'll be able to use your phone comfortably from even the loudest parts of your site.
IP-65 certification on some models also guarantees dust and water resistance, ensuring your phone can stay on your belt in all conditions. This also has the advantage of making your handsets wipe clean, keeping them Covid-safe and ensuring they can shrug off a drop into a muddy puddle. Our ruggedised handsets are every bit as tough as all your other tools, allowing you to add phone connectivity to your staff's toolbelts without the fear of costly breakages.
Remote access
Rugged environments go hand in hand with remote work. And by remote, we really do mean remote. Our phone systems are ideal for builders, engineers and any other mobile staff, giving them all the features you get at your HQ in a simple and convenient mobile app.
This means that as long as you've got mobile signal, the office is no more than a button press away. This also means that you'll be able to put an end to costly mobile calls. Signing in to your office phone system from a job site ensures that every call you make back to base is free. This also has the benefit of displaying your office phone number on any call to your clients, boosting your firm's reputation for professionalism.
Simplicity
What do your staff need from your phone system? In our experience, the answer that comes up most often is "simplicity".
All too often, telecoms suppliers will install systems that are entirely unsuitable for the environment they're used in. Whether that's a complex and expensive server to house on site, cordless handsets with poor range or complex mobile apps that can't be used with gloves on, we've seen it all before.
At One Connectivity, we take the time to find out how you work and what you really need your phone system to do. That's why some of our most popular handsets among businesses in rugged environments are our simple and cost-effective cordless handsets. Range and toughness are important, but what good are they if you have to take your gloves off to make or take a call? We can provide handsets with large, easy to use buttons, making calling your colleagues easy.
It's the simple things that make the biggest difference.
Connectivity
Of course, you need to be able to connect to your cloud system somehow. We can help here, too. Our broadband packages are available at more than 99% of business premises around the UK, so we can practically guarantee that we'll be able to match or even improve your current service.
With One Connectivity providing both your phone system and your connectivity, you'll only ever have one bill to pay, one call to make and one supplier to work with.
Do you work in a tough environment? Could your connectivity and phone system do with an upgrade? We're the right partner for you. We've worked with warehouses, aggregate firms, builders, factories and a huge range of other companies with demanding sites. Each time, we've impressed our clients with our professionalism and efficiency.
Interested? Get in touch with our team today to find out more.