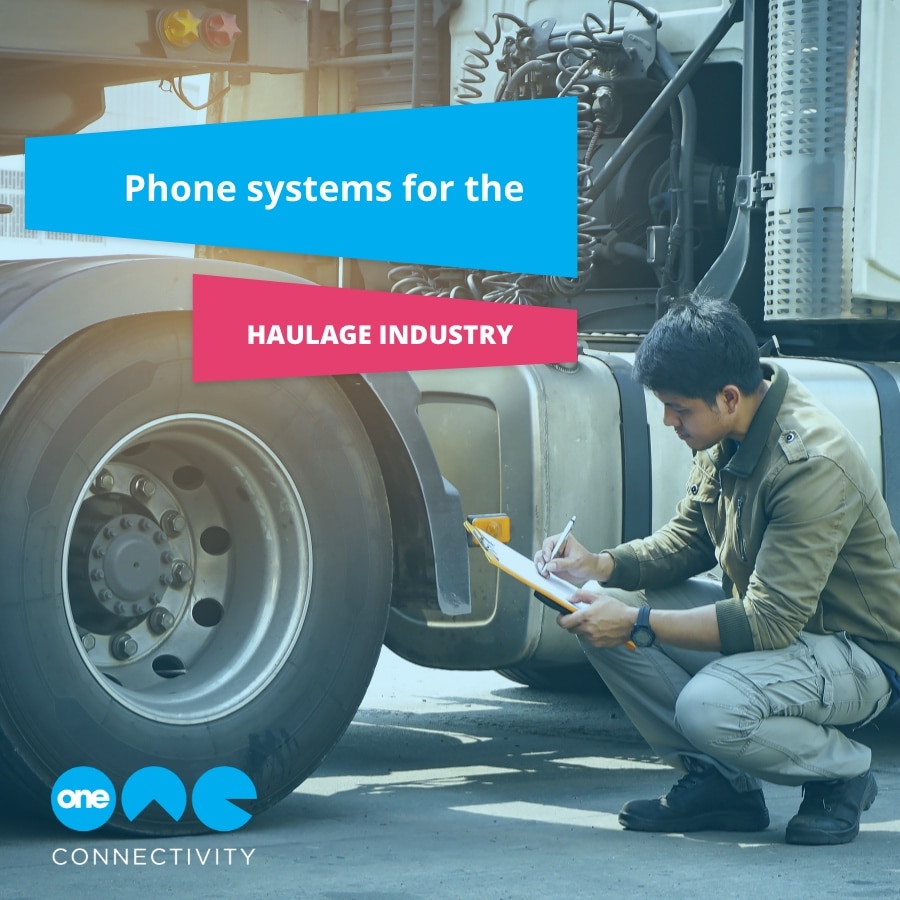 15 Apr

Phone Systems for the Haulage Industry

Communication is key to success in the haulage industry. At One Connectivity, we've been helping hauliers keep in touch with their drivers and their clients for years.

We've got a strong track record here. We've had clients of all sizes in the haulage industry. From smaller firms running a few trucks to huge businesses operating hundreds of vehicles up and down the country, our expertise can bring unique value to your business.

Take PJ Thory, for example. We updated their phone system recently, and it's been working fantastically for them:

"One Connectivity's phone system helps us keep in touch with our drivers without costing the earth. It's helped us streamline our deliveries and keep our clients better informed." Ed Thory, PJ Thory

In this blog article we'll explore why we think the latest cloud phone systems are a perfect fit for the unique requirements of haulage and logistics firms.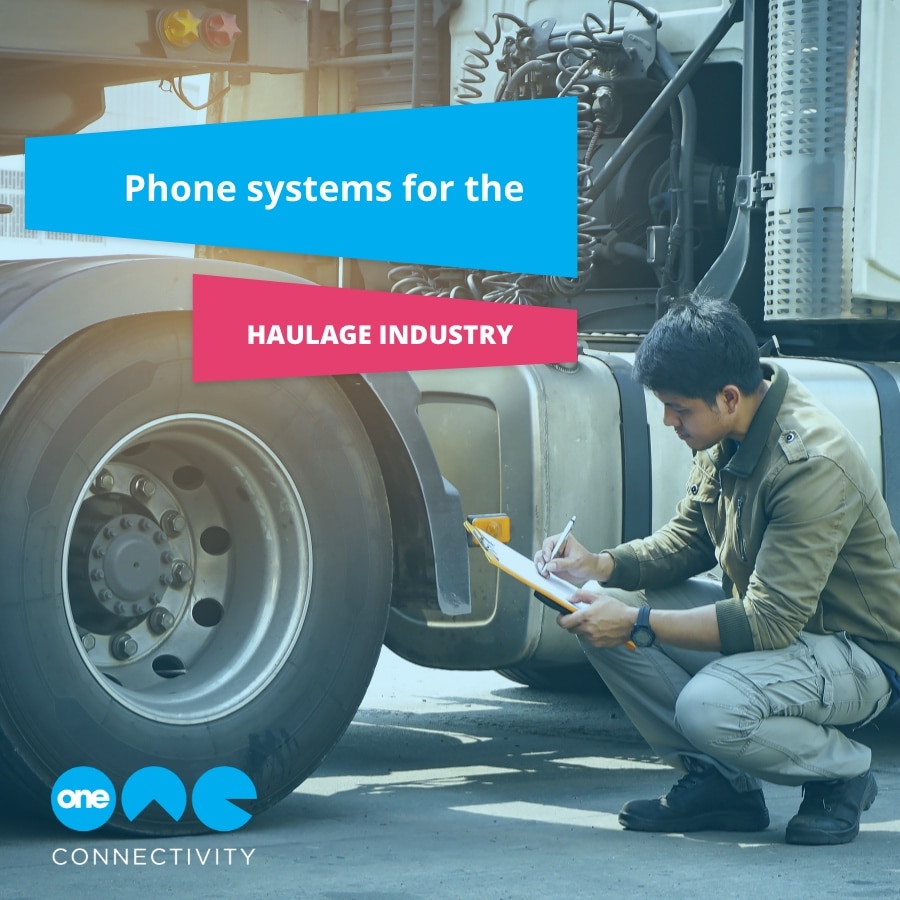 – Connectivity
Mobile apps keep your drivers connected to base as long as they've got coverage at no extra cost. This gives your office staff a simple extension number to ring to contact each driver. It also allows you to configure more advanced features like ring groups to get hold of entire teams of drivers.
By signing in to the company phone system through the mobile app, drivers have access to instant communication back to base. This ensures they're never left out in the cold, giving them a fast and simple way to relay information, ask questions and resolve issues.
– Cost
Compared to an ISDN system and the associated call rates, the cost of VoIP is a drop in the ocean. If you contact your drivers by calling their mobiles, you could save thousands by migrating to a VoIP system like ours.
With remote access built in from the outset, your staff can sign in to their extensions from any device and from any internet connection. This means that any call to them from the office is routed over the internet and therefore is completely free.
All you've got to pay for is the data your drivers use. You might think that a phone call would use a lot of expensive bandwidth, but that's absolutely not the case. The latest HD audio codecs use as little as 64 kbit/s. To put that into some context, 64 kbit/s equates to less than 30MB for an hour-long phone call. There's little risk of any bandwidth limits being troubled. Especially with One Connectivity's generous mobile bundles!
– Advanced call handling
Efficient inbound call routing guarantees that your clients will get through to you quickly and easily each time they call.
The simple expandability of a VoIP system allows you to assign every member of staff a direct dial number without costing the earth. This makes customer care second nature. Assign dedicated account managers to your clients and they'll get a single point of contact for all of their needs.
The ease of use of our phone systems make attracting new business far easier, too. Intuitive call menus route your callers to the best people to answer their questions. Auto attendants can take a lot of the strain off your front desk staff. By directing calls to where they need to go without bouncing between departments, auto attendants simultaneously increase your call handling capacity, and your customer satisfaction levels.
– Keep your clients up to date
Keeping your drivers in closer contact with the office allows you to give far more accurate information to your clients. With a direct line back to base, your drivers will be able to report back more regularly, keeping you up to date as to their progress.
Combine this with the state-of-the-art reporting and analytics features built in to our phone systems and your clients will never be left wondering where their delivery is.
Our phone systems can integrate with a huge variety of third-party CRMs. This ensures drivers and office staff alike have access to all the information and contact details they need. Automatically log driver calls to the relevant client's record, linking it with the call recording to ensure total accountability and peace of mind for all parties.
– Unlimited Scalability
Facing extra seasonal demand? With VoIP on your side, you'll never have any concerns about keeping new drivers connected to the office. New users can be added in just a few clicks, creating a uniquely responsive and adaptable solution to shifting demand.
Getting users up and running on the system is just as easy. Once they've downloaded the mobile app, your drivers only need to enter their username and password to be signed in. No complex server details or any other configuration is needed.
This ensures that you can retain central control of a national phone system and infrastructure; there's no need for users to visit any of your offices to get started. By consolidating all branch phone systems into a single central system, you can unify your customer services. This ensures all clients get the same great service, no matter how big your operation is.
Do you want to find out more about our phone systems for the haulage and logistics industry and how they can benefit your business? Give us a call on 0115 896 88 60 or leave us a message on our website to arrange a free consultation and quote.